1 paramedic $52k, 1 Lucas device $30k, 1 Auto Load cart $20k…Your Life: Priceless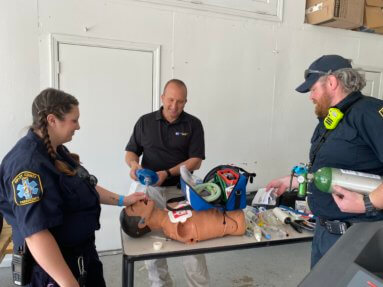 WANDA ENGLISH BURNETT PHOTO
Emergency Medical Services in Ripley County recently were presented with some COVID-19 grant monies to the tune of $350,000. Before you think that's an outrageous amount, remember the cost of doing business is high and the equipment even higher.

EMS Director Scott Huffman said they were able to purchase Auto Lifts for the cots for the ambulances. These make it so that only one person can operate the cot loading a patient. Each one is now equipped with the electrical mechanism to lift with the push of a button.

Also purchased was an automated CPR machine. This again allows one person to perform CPR, which the machine actually does. Machines used for intubation (Rapid Sequence Intubation) have a video screen that allows precision when placing such a tube in a patient. "This is a serious procedure that could save a life," noted Huffman. A respirator is another tool of the trade, allowing the medic to give precise breaths over the manual respirator that can actually cause damage if not administered properly. And, computers have been placed in every ambulance that maps the exact location where the driver is headed to, with audible instructions. It also tracks where the ambulances are at all times.

If you see an ambulance sitting idle – remember, they are probably doing endless charting after taking care of a patient. The most simple transport generates much paperwork. The more complicated the run, the more paperwork, which is now able to be done on computers inside the ambulance. Just as soon as one transport is done, the ambulances are prepared for the next run and often don't make it back to their base before being rerouted.

The career of an EMT or Paramedic is one that changes daily, according to Huffman, who has been in the business a number of years. "This group of people are on top of it," he told the Osgood Journal last week. He noted that they train on a daily basis and are always on the cutting edge of using the equipment.

Some may not understand the need for the paramedics, but they are more specialized than EMT's with the ability to administer life-saving medications and perform procedures. They have over 30 medications they administer in the field. Both the EMT's and paramedics work in tandem to bring the best, specialized care to the residents of Ripley County and beyond.

Ripley County EMS is now more uniform and has a station in Versailles (where the old Rescue 69 building used to be) and one in Milan. There are 21 active EMT's and 10 paramedics, along with EMRs or Emergency Medical Responders and drivers.

This unique group also has seven instructors for the ongoing training that is necessary for licensure to continue running the medical service. They are specialized in Rope Rescue and Confined Space Rescue with seven certified technicians, Ice Rescue with three cold water suits. They have five flight paramedics and one flight nurse who are currently working at those jobs as well as bringing their skills to Ripley County. "They all bring the critical care that is needed to make a great team – one like no other," Huffman said, adding, "They approach their days with a unified effort, which makes a difficult situation much easier."

Editor's Notce: This is just a highlight of what EMS in Ripley County does. Their duties are far beyond what can be put into words and they never know what the next call will bring, but they are ready.