11U Rivals win Aurora Tourney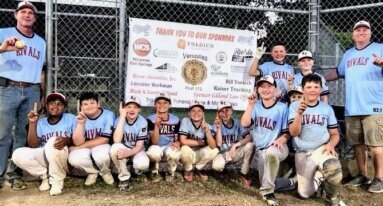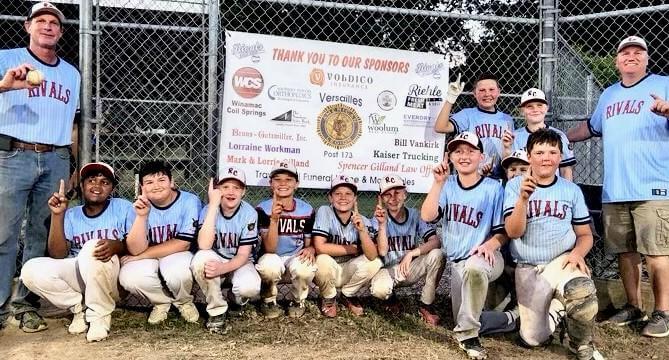 SUBMITTED PHOTO
Baseball continues to be a strong suit for local youth this summer as the Ripley County Rivals 11U squad won its first championship this past weekend at the annual Aurora Youth Baseball Tournament.

The 11U Rivals are made up of youth from both South Ripley and Jac-Cen-Del and are coached by Troy Riehle and Rich Block. 11 players for the squad combined to pace the efforts that led to a perfect 5-0 mark at the tournament.

Ripley County won the championship with a 9-5 win over the host Aurora Knights who had defeated Batesville and No. 1 seed Milan to advance to the title tilt. The Rivals used an Owen Andrews diving catch to gain momentum in the middle of the game and what followed was singles by Kingston Smith, Jacob Carroll and Boden Block and a double by Keeton Miller to open up the margin to a 9-3 score. Aurora was able to add two runs late but never made a serious threat at a comeback.

Miller and Karrter Murray each had two RBI and a double to pace Ripley's performance at the plate. On the mound, Shawn Riehle earned the victory, going four innings without allowing an earned run. Riehle allowed five hits while striking out three and walking one.

28 runs on 24 hits allowed the Rivals a 2-0 pool play record to open the tournament, grabbing the No. 2 seed in bracket play but it would take a huge two-out rally in the final inning against Rushville to stay alive. Ripley County trailed the Lions 10-5 in the sixth inning and cut the deficit to four runs on a Christian Wise hit. The game was tied 10-10 on a pair of two-RBI doubles by Smith and Block before Riehle completed the comeback on a hard hit to the left side of the field that scored Dusty Scudder.

Sunday's miracle in the quarterfinals gave way to the Rivals winning 4-1 over Switzerland County in the semifinal round. Miller pitched a complete game and struck out seven in the game while Kasin Bowling and Westin Hountz combined to drive in three runs.