13 advance to boys track regional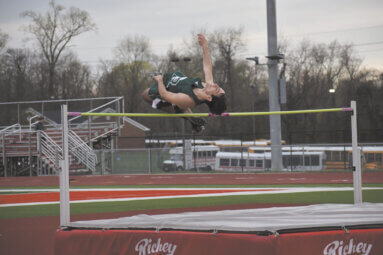 PHOTO BY AMANDA BETZ
Thirteen coverage area student-athletes in a combined 11 events are regional bound after top three performances last Thursday night in the IHSAA Boys Track and Field Sectional at East Central.

Top three finishers in each of the 16 sectional events automatically qualify for the next round of the postseason. At-large competitors are selected in the coming days based on state determined times and distances.

East Central entered as the favorite and played up to the part, scoring 121 points and taking claim to the overall sectional title. Batesville was impressive and turned in a 74-point performance that tied them with South Dearborn for second place while Franklin County's 61.5 points and Greensburg's 60 points rounded out the top five. In terms of other coverage area teams, Milan was forced to take a seventh place finish in the sectional with 58 points and South Ripley was 10th with 22 points. Oldenburg Academy scored seven points and Jac-Cen-Del recorded two points to finish 12th and 13th respectively.

Despite a low team finish, Milan placed out of the five local schools with regional qualifiers in five events, two of which were individual sectional champions. Ben Riehle just missed a new sectional record in the 400 dash, winning that event in a time of 49.49 seconds and Gabe Riehle won the 800 run in a time of 2:01.35. That duo would then team up with Jonny Volk and Ethan Dehamer to earn a regional bid in the 1600 relay, running second in 3:32.59.

Milan's Ayden Potts battled an injury on Thursday night and is still hopeful to have a chance to run in the regional this week. He placed second in the 1600 run at 4:38.27. Ben Riehle earned a third place spot in the 200 dash at 23.40 seconds, marking a third regional event he will compete in.

Batesville had an individual sectional champion in Jake Chapman who was a winner in the 3200 run in a time of 9:55.49. Four other events saw Bulldogs qualify for the regional. Chapman, Isaac Trossman, Deev Ranka and Cannon Clark placed second in the 3200 relay at 8:21.56 and Ayden Eckstein was runner-up in the high jump with a height of six feet and four inches. Hudson Kohlman went 11 feet in the air and was third in the pole vault.

The Bulldogs earned several top five finishes overall, garnering scoring opportunities that allowed for that second place team finish.

South Ripley put together the final two coverage area regional qualifiers. Will Tunny matched Eckstein's six feet and four inch height in the high jump and based off a tiebreaker ultimately overcame a local nemesis to earn the sectional championship. It was a season-best height for Tunny, a senior. Carson Fisk advances to the regional in the 800 run, finishing third last week in a time of 2:04.08.

Oldenburg's best finish went to Adam Dennis who was sixth in the 1600 run at 4:56.15. Corbin White gave Jac-Cen-Del a seventh place finish in the discus with a throw of 126 feet and 11 inches before he finished ninth in the shot put at 42 feet and 11.5 inches.

The IHSAA Boys Track and Field Regional will be held on Thursday night at Greenfield-Central and begins at 6 p.m.