15 punch ticket to girls track regional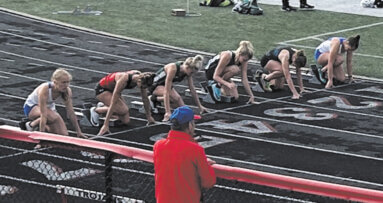 PHOTO COURTESY OF SR SCHOOLS
One of the toughest fields in the southern half of the state saw 15 coverage area student-athletes emerge as regional qualifiers as part of the IHSAA Girls Track and Field Sectional at East Central on Tuesday night.

12 of the 13 teams in the sectional scored points in the event as the top three finishers in each of the 16 events earned automatic berths to next week's regional meet.

As expected in terms of team competition, favorites East Central and Batesville went toe-to-toe with the host Lady Trojans eventually winning out with 159 points while the Lady Bulldogs were sectional runner-up at 140 points. Lawrenceburg placed third with 90.5 points, Greensurg was fourth with 59.5 points and Franklin County rounded out the top five with 57 points. Other coverage area teams in the field included South Ripley in sixth place at 25 points, Oldenburg Academy in ninth with 20 points and Milan's 11 points for an 11th place tie with Rising Sun.

Jac-Cen-Del's girls team competed in the sectional but was unable to put up any scoring in the meet.

Batesville is regional bound in 10 different events, two of which saw sectional champions from the school. Nadine Davis was a sectional champ in the pole vault with a height of nine feet and six inches and Emma Weiler battled a stiff field in the 3200 run, winning in a time of 12:05.76. Sophie Myers is regional bound after placing second in the 1600 run in 5:28.59 while other second place finishers for the Lady Bulldogs were Ella Moster in the 300 hurdles at 48.83 seconds, Kaylie Raver in the 800 run at 2:25.13 and Kaylynn Bedel in the 3200 at 12:06.66.

Other regional qualifiers for Batesville that placed third in the sectional include the following: Ava Hanson, high jump, 4'10;" Cora Deputy, pole vault, 8'6;" Megan Allgeier, Bedel, Raver and Hanson, 3200 relay, 9:35.91; Katie Lipps, 200 dash, 27.20 seconds; Bedel, 1600, 5:36.20; Pohlman, Davis, Kamryn Dozier and Lipps, 51.47; Myers, 800, 2:26.29.

The only other sectional champion from a coverage area school was South Ripley senior Emily Flood. Her time of 15.14 seconds in the 100 hurdle event was not only good enough for a championship but also set a new school record in the event, one that she broke earlier this season. Alexa Yeomans joined her in that same event as a regional qualifier, punching her ticket with a third place finish at 15.81 seconds.

Lady Raider Shelby Bastin just missed automatic berths but still has an outside shot at a pair of at-large bids into the regional. Bastin was fourth in the 1600 run in a time of 5:40.75 and then was fifth in the 3200 run at 12:56.66.

Oldenburg Academy freshman Rachel Suttman was the final coverage area competitor who qualified for the regional after finishing second in the discus event with a throw of 108 feet and seven inches. She also was seventh in the shot put at 32 feet and 7.5 inches. Madelyn Henry posted a top five finish in the 300 hurdles at 50.11 seconds and Bridgette Ehrhard ran sixth in the 1600 run at 5:51.67.

Freshman Elly Potts placed sixth behind Bastin in the 3200 run, running in a time of 13:29.40 and Josie Havlin was seventh in the 400 dash at 1:03.29.

The IHSAA Girls Track and Field Regional will be held on Tuesday night at Franklin Community High School and begins at 6 p.m. First, second and third place finishers at the regional will automatically qualify for the state finals.