2019 was busy year for dispatchers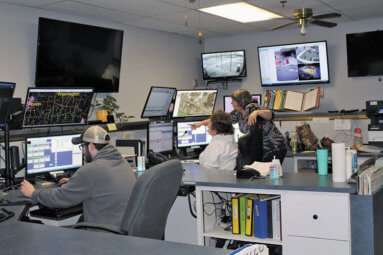 MELINDA STARKEY PHOTO
Everyone is aware of the time and commitment the local police, fire, and EMS departments put into each day. But without the support of the dispatchers, their job would be tremendously more difficult. An often underappreciated job, dispatchers are the initial contact with a person(s) experiencing an emergency situation, a calming voice for the caller, and the liaison between that person(s) and the emergency crews.

According to Leah Hildebrand, 911 Supervisor and Director for the Ripley County 911 Communications Center, in 2019 the 911 dispatchers answered 26,745 calls for service; made 159,426 radio log entries; answered 9,468 calls for 911; answered 52 text messages to 911; and sent 647 text messages from 911. The 911 calls alone averaged around 789 calls per month, with the summer months being the heaviest in call activity. Winter months can be quite busy too when weather conditions are bad.

The police, fire, and EMS are not the only departments they serve. They also work with Ripley County Emergency Management Agency, Ripley County probation department, Ripley County Prosecutor's office, Ripley County Court Services/Community Corrections, Ripley County Dog Warden, and Ripley County Highway. In addition, they work with state agencies that include Division of Child Services, Department of Natural Resources, Indiana State Police, Indiana Excise, Indiana Parole, State Highway, and Versailles State Park. Fire Departments include Delaware, Friendship, Holton, Milan, Morris, New Marion, Napoleon, Osgood, Sunman, and Versailles. Police agencies include Ripley County Sheriff, Holton Police Department, Milan Police Department, Osgood Police Department, Sunman Police Department, and Versailles Police Department. EMS Agencies are Sunman Rescue 20 and Ripley County EMS. They also work with surrounding counties, which include Dearborn, Decatur, Jefferson, Jennings, Franklin, Switzerland, and Ohio. The 911 Communications Center includes Hildebrand, Amanda Smith, Assistant 911 Director, and seven dispatchers, two of which are currently in training by Hildebrand and Smith. All dispatchers are currently Indiana APCO members. Hildebrand noted they are currently looking for a 911 dispatcher. This job requires a dependable, versatile, team oriented person with strong multitasking skills, as well as someone willing and able to work all shifts if needed. The current position would be for 40 hours a week. If interested, you can download an application from the Ripley County Government website or pick one up at the 911 Center. Hillenbrand says she "looks forward to meeting those that have the heart to give to others." Hillenbrand also stated "If you don't have it in your heart to help others, and do God's work, you won't last long." She said they take every emergency seriously; it's not just a paycheck.

Dispatchers truly are the unseen heroes behind each emergency. If you ever have the misfortune to need emergency services, be assured that dispatchers are at the front line controlling the confusion and chaos and navigating responders to make sure help finds its way.