2020 Versailles Pumpkin 'No Show' is here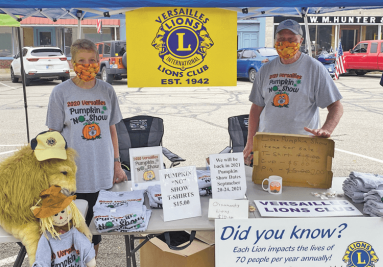 WANDA ENGLISH BURNETT PHOTO
The Versailles Lions Club members are not to be outdone by a virus. Although the 2020 Versailles Pumpkin Show has been canceled, they are still working toward their goal of serving the community by selling 2020 Versailles Pumpkin "No Show" t-shirts, complete with a masked pumpkin!

The group will be on the square on September 26, which is the traditional weekend of the Versailles Pumpkin Show, set up with a booth at the Farmer's Market. The t-shirts, along with other Lions Club memorabilia pertaining to the pumpkin show, will be available.

Tradition will continue with plans for the big pumpkins to be on the square. They will be weighed off-site then brought to the square to be viewed. Also, according to an inside source, the famous pumpkin rolls will be available for purchase that day by the slice or whole!

The Versailles Lions Club invites businesses and individual homeowners to decorate for fall, and make the town look great for the weekend of September 26. While there isn't a formal contest this year for decorating, they are hoping many will participate.

This is the 118th Annual Versailles Pumpkin Show, with a twist. While there will not be rides, booths, and festivities as usual, there will still be the spirit of the show.

The history of the Pumpkin Show is steeped in tradition of having big pumpkins, royalty, great entertainment, and a homecoming for people who have moved away from the area. High school bands highlight the great parade that always took place on Saturday morning of the now five-day event.

The first year a Pumpkin Show Queen was implemented was in 1950 when Charlene Ward of Osgood took the title. Floats, some simple, some elaborate, have been seen throughout the years. But, what really makes the Pumpkin Show – is the people.

The Versailles Lions Club always gives back to their community, making a difference through their contributions. The Pumpkin Show is their biggest fundraiser, so if you can support their efforts on the square next Saturday, they would appreciate it. Also, if anyone is interested in becoming a member, just stop by their booth.

Plans are already in place to make next year's 2021 Versailles Pumpkin Show bigger and better than ever – one you won't want to miss!

EDITOR'S NOTE: Be sure to pick up a keepsakecopy of The Versailles Republican on September 24 to see memories of Pumpkin Shows past and the many advertisers who support the Versailles Pumpkin Show.