3 helicopters respond to crash scene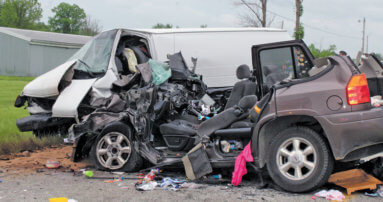 WANDA ENGLISH BURNETT PHOTOS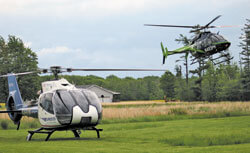 A crash that occurred last Thursday, May 9 involved three vehicles, four people were seriously injured, and four helicopters responded to take patients to Cincinnati area hospitals. Rescue 69 and Ripley County Medics also responded, along with numerous police, fire and first responders.
US 421 was closed between Osgood and Versailles for nearly four hours as the people were being extricated from two vehicles, and police were doing an investigation into what happened.
According to information from Sgt. Stephen Wheeles of the Indiana State Police, a 2008 GMC SUV being driven by Natashia J. Peters, 23, Lawrenceburg, was traveling southbound on US 421 near Hasmer Hill Road. Peters' vehicle crossed the centerline into the path of a northbound 2015 International truck being driven by Brian E. Johnson, 44, Osgood. Johnson was able to take evasive action and drove off the road into a field quite a ways to avoid hitting Peters' vehicle. But, another northbound vehicle was unable to keep from colliding with Peters. Brandon D. Yeary, 24, Indianapolis, was in a white 2003 Ford van and the two vehicles hit head on in the northbound lane of the roadway.
Peters was airlifted to the University of Cincinnati Hospital for treatment of serious injuries. A witness at the scene said she had both of her legs broken. A child in her vehicle, approximately three-years-old, was also airlifted with serious injuries. She was taken to Children's Hospital in Cincinnati.
Both men in the white van were airlifted as well. Yeary was taken from the scene to University of Cincinnati Hospital and a passenger in the van, Terry L. Dykes, 33, Indianapolis, was transported to Margaret Mary Hospital in Batesville. He was then airlifted to University of Cincinnati for treatment of serious injuries. Johnson, who had driven across a ditch and out into a field, was not injured in the crash.
Students from the Southeastern Career Center said the men in the truck had just left the school where they had been working on wiring some computers.
At the scene Osgood and Versailles firefighters worked together to extricate those injured from both vehicles. When returning back to the station, one Versailles firefighter had to be transported to Christ Hospital in Cincinnati. Chief Sieverding noted that he was checked out and had come home the next day.
Several troopers from the Indiana State Police – Versailles Post, assisted Trooper Ben Bastin and Matt Holley at the scene. Deputies from the Ripley County Sheriff's Department and Osgood Police Department were also on hand to help. Some of the firefighters said they hadn't responded to a crash of that magnitude in quite a while.
The condition of those involved in the crash was not known at press time.