3 perish in Jennings County house fire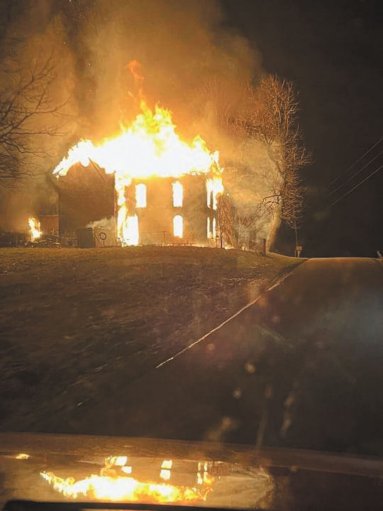 SUBMITTED PHOTO
Last week a family felt the loss of three victims of a house fire after it burned to the ground with them inside. Chris Hermann, 53, and his girlfriend, Angela Lyons and her son James, were inside the two story brick home last Tuesday, January 24 around 5:30 a.m. when fire was called into 911 dispatchers. The three died of smoke inhalation according to the Coroner. The home was located close to the Jennings/Decatur County line near Westport in Jennings County.

While the fire is under investigation, a Jennings County deputy noted that it was possible the origination came from a wood burning type stove. The first victim was found around 11 a.m. when firefighters could get through the collapse of the building, along with water that had to be pumped out of the home before the family could be taken out.
Family members heard about the tragic event and were on the scene saying they knew the victims had to be inside.

People quickly learned that the family was connected to Ripley County and the word came that they needed prayer and some "action" along with it. One of Hermann's sisters, Rachel Anne, is married to Joey Nuxoll, who grew up in the Hopewell/Osgood area with his family Harry and Donna Nuxoll.

Donna told The Versailles Republican their family is just heart broken and they know those who are reeling from the tragedy could use some help. She says Hermann's children could use any funds, and memorial contributions to help with funeral expenses can be made through the funeral home. Also, you can contribute to a special fund set up at any Napoleon State Bank facility with locations in: Napoleon, Holton, Osgood, Westport, Milan and two locations in Greensburg – Lincoln St. and Westridge.

Hermann was a veteran of both the U.S. Army and Navy, according to information from Bass & Gasper Funeral Home, Westport, where services will be held on Friday, February 3 at noon. He was known as someone who was always willing to lend a hand or an ear to anyone who needed it. He was a family man, who enjoyed old Farmall tractors, old Ford trucks, class rock, and Johnny Cash. "Chris was a good man, a great friend, and the best father and grandfather," a line in his obituary read.