4Q surge lets Bulldogs retain County Bell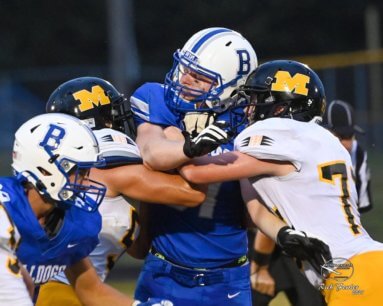 Photo by Rich Fowler
This year's version of the Ripley County Bell Game wasn't quite the high-scoring affair of last year's classic that saw Batesville come back in the fourth quarter for a win, but a comeback effort was again in the books in 2021 as the Bulldogs thwarted off Class A No. 13 Milan 12-3 last Friday night at home.

The victory is the second-straight for the Bulldogs in the annual rivalry and the third win in the last five seasons. It is the first time Milan has been held to seven points or less in the season series since the Indians fell to Batesville 21-7 on August 30, 2013.

As the two teams struggled all night to even combine for over 300 yards of total offense, defense gave way to a shutout in the first half and the third quarter was nearly a repeat until Milan was able to get on the board with a 23-yard field goal by Logan Burton with 3:10 remaining in the frame. The 3-0 advantage stuck around for the next six minutes but that's when Batesville's fourth quarter surge began.

Finally shaking off a stingy Milan defense that stuck around for a second week, the Bulldogs took the lead with 9:25 to play in the final quarter, scoring on a three-yard run by Vonley Hund but the Indians stayed within a 6-3 deficit after Braiden Foster's extra point was no good. However the Indians never could swing a touchdown late and Batesville again got on the scoreboard.

Batesville quarterback Travis Lecher put the game out of reach with 5:58 remaining, connecting with Luke Wilson on a 16-yard touchdown pass for the eventual 12-3 final score. The Bulldog defense continued to be a wall the rest of the way, sending the Indians to their first loss of the season.

That same Batesville defense held Milan to just 129 yards of total offense and forced three turnovers on the night. Cade Kaiser, Brady Hornberger and Jacob Meer each were credited with an interception and the Bulldogs held Milan to just eight first downs and a 3-of-15 conversion rate on third downs.

Milan quarterback Brayden Rohrig was 7-of-18 passing along with those three interceptions with 68 passing yards. Logan Reed had 30 rushing yards on 15 carries and Ethan Pierce was the team's leading receiver with two catches for 29 yards.

On the flip side, despite the loss, Milan's defense allowed just 208 yards of total offense and forced four turnovers while limiting Batesville to a 3-of-11 conversion rate on third downs. Jeremiah Johnson had two interceptions and Riley Johnson had a pick with Cole Moore being credited with a sack.

Lecher had three interceptions and was 8-of-17 passing for 97 yards alongside his fourth quarter touchdown toss. Vonley Hund's touchdown paired with 18 carries for 82 yards and Wilson was the top receiver, catching four balls for 52 yards.

Batesville (2-0) begins Eastern Indiana Athletic Conference play this Friday night when they travel to Aurora to take on South Dearborn (1-1).
Milan (1-1) gets another big challenge this Friday when they host Class 3A No. 7 Lawrenceburg (1-1).

FRIDAY'S FOOTBALL GAME at Batesville
BATESVILLE 12, CLASS A NO. 13 MILAN 3
MILAN – 0 0 3 0 – 3
BATESVILLE – 0 0 0 12 – 12
MILAN BV
1st Downs- 8 14
Rushes-Yards – 38-61 36-111
Comp-Att-Int – 7-18-3 8-17-3
Pass Yards – 68 97
Penalties-Yards – 6-40 8-75
Fumbles-Lost – 2-0 1-1
INDIVIDUAL STATISTICS
RUSHING – Milan, Logan Reed (15-30); Riley Johnson (16-20); Brayden Rohrig (5-12); Jonny Volk (2- -1). Batesville, Vonley Hund (18-82, TD); Travis Lecher (9-45); Will Jaisle (1-3); Braiden Foster (1- -13).
PASSING – Milan, Brayden Rohrig (7-18-3, 68 yards). Batesville, Travis Lecher (8-17-3, 97 yards, TD).
RECEIVING – Milan, Ethan Pierce (2-29); Jonny Volk (3-24); Cole Moore (2-15). Batesville, Luke Wilson (4-52, TD); Jacob Meer (3-45); Vonley Hund (1-0).
MISSED FIELD GOALS – None.