A girl and her horse: champions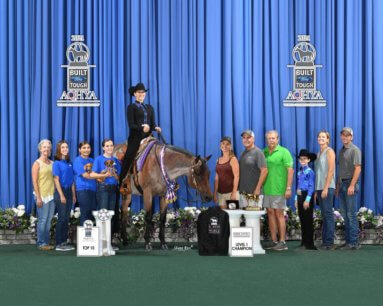 SUBMITTED PHOTO
Olean teen joins showmanship ranks of her idols
Kyla Jeffries of Olean overcame a great loss in her last season as a youth to be named the Level I Champion at the American Quarter Horse Youth World Show in Oklahoma City this summer. And, earlier this month, Kyla and her Indiana Quarter Horse Association teammates were named this year's winners of the Nyatt Division I at the National Youth Activity Team Tournament Congress in Columbus, Ohio.

Kyla showed Blazed and Amazed, also known as Blueberry, in these competitions. But, she began the season showing Stylin Sophisticated, "Houston," the horse she'd been working with for the last four years. Blueberry came to Jeffries after Houston died unexpectedly in April.

"I was leading the nation with Houston," said Jeffries. "Losing him is probably the hardest thing I've ever gone through."

Blueberry is an older quarter horse at 16 years old. He came out of retirement to help finish out Kyla's final season as a youth at 18 years old. He is owned by Elizabeth, Scott and Laurie Christie, of Danville, who offered him to Kyla after hearing of her predicament.

"I was worried for her, I was worried she would lose her drive", said Bonnie Jeffries, Kyla's mother. "But, she didn't lose her fire."

Bonnie explained that her daughter's passion for horses began after she first took Kyla to the Congress as a young girl. The mother-daughter pair were watching the showmanship competition and Kyla, who was around five years old at the time, wanted to sit and watch the entire show to see who would place. Bonnie explained that watching riders take their horses through the same set patterns over and over again in showmanship can be rather boring to most people, but Kyla was hooked.

This was around the time Bonnie, who grew up with horses herself, got Kyla her first horse. Her plan was for them to be able to camp and trail ride together, but her daughter's passion pulled them into shows and competitions.

"If anyone has a passion that strong, I'd support her, because it's hard to find that," said Bonnie.

Kyla credits her mom for working with and tending to Blueberry during the week while she attended her classes at the University of Georgia at the end of this summer. Kyla made the 16-hour drive on the weekends leading up to competitions to work with him herself. The college freshman did not initially plan to continue showing horses after high school, but after she quickly adjusted to her new schedule she was bored and missed horses. Something her mom says she knew would happen.

"Since I was four, I've had a horse, so it was such a weird thing to not have that responsibility," said Kyla.

Kyla has grown up taking care of and working with horses. She began flipping them – taking horses and making them worth money through breaking and training them – at 12 years old. Her experience and dedication to working with many different horses over the years became an invaluable investment this year as she transitioned to working with Blueberry, who hadn't showed in six years.

"I've ridden so many different horses, and it's just given me so much confidence," said Kyla.

Kyla's success has brought her to a level she thought she would only ever dream of reaching.

"I never imagined I'd be here today," said Kyla. "It's crazy that the people I idolize are the people I show with every weekend."

Bonnie said the championship status at the World Show has been a goal of Kyla's for a long time.

Kyla said the amount of people that started looking for a horse for her when Houston passed showed how the community surrounding the horse shows really works to support each other.
"I went into these shows just happy to be there," said Kyla, explaining that she's learned through her years of working with horses that not everything is going to be perfect.

Kyla is using the skills she's learned through showing horses – the hard work, dedication, and more – to complete the pre-vet track at the University of Georgia. Her plan is to become an equine reproduction veterinarian after school. But she's not done with her showmanship career just yet. She's looking for another horse to show next season and is hoping to find one a little closer to her dorm to start working with soon.