A year after bicentennial celebrations, Versailles town square sees change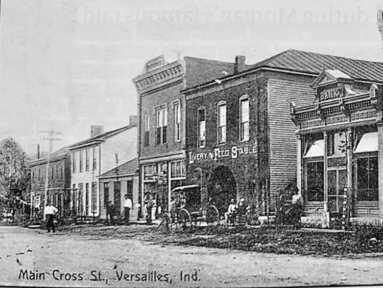 SUBMITTED PHOTO
The town of Versailles spent 2018 recognizing their 200th anniversary, capped by a huge celebration staged on the town square in late July. The big shindig was perhaps the greatest event organized by the young Main Street Versailles (MSV) group to date. Rather than resting on their laurels, however, MSV looks to have harnessed momentum from the grand occasion as their vision for a vibrant Versailles community continues to develop.

"[We] discussed during the planning of the event that the cherry on top of a successful bicentennial celebration would be getting one business to move to the square," says MSV president Holly Harley. "We did a little dance when Pat's [Bulk Food] announced they were moving to the square last fall."

The local grocer moving into a vacant building on the square is only the start, it seems. Since last July, Harley notes several other signs of progress:

G.H. Coffee moved back into their Versailles location;

Large murals of Versailles history were installed on the Lions Club building;

Community Crossings grant money was awarded to the town for street and sidewalk upgrades, with more money being awarded to use next year;

MSV installed new waste bins and lamppost banners around the square with help from an REMC Operation Roundup grant;

MSV saw their highest attendance rates at annual events like Hoppin' on the Square as well as a successful farmers market season; and

Ripley Youth Outreach pledged to use a $5,000 grant to open a youth hangout on the square.

Additionally, during this year's Pumpkin Show, Harley announced on social media that she and her husband, Jordan, purchased the former Ron Dee Printing properties, which consists of three vacant spaces on the south side of the square. The Harley's are planning and taking first steps toward what will be The Tanglewood Hotel and Venue in the near future.

Harley noted that the need for a local hotel was illuminated through MSV's #iwishthiswas social media campaign, curated by member Olivia Welch. When the properties were announced for auction, the couple decided to make an investment in their home community and work toward bringing the hotel idea to fruition.

The properties are currently being cleaned out, with renovations planned to occur throughout the next year. Harley hopes to welcome guests by 2021, but she notes that she doesn't want to rush anything and is still working through many details. Folks interested in following the progress of the property are invited to follow The Tanglewood on Facebook.

Main Street Versailles is proud to highlight these tangible signs of progress, born from the effort of a small group of individuals who believe that a community like their own can be an attractive place to live, work, and visit. MSV President Harley, Versailles Town Councilwoman Roxanne Meyer, and representatives from the Ripley County Community Foundation recently attended a workshop at Hanover College that further motivates their outlook.

Rewriting the Rural Narrative, presented by Ben Winchester, extension educator on community economics from the University of Minnesota, shed light on the portrayal that rural areas are dull or dying places, even though data tends to tell a different story.

"Rural population has actually increased by 11% since 1970," Harley shares from the workshop. With the exception of 15-29 year olds, data shows that plenty of people across the country are choosing small communities to live and raise a family. "We have to attract them to our community by writing the narrative," she continues.

By writing the narrative, she means highlighting the assets. People don't move or visit somewhere out of pity, but rather because they like what's going on there and see potential for fulfillment.

One local asset MSV would like to build on is tourism at the Versailles State Park. The park welcomes nearly a quarter million visitors each year. If more of those visitors were enticed to visit the town square, Harley believes it gives potential businesses more faith in their viability. She says MSV, with the help of the Ripley County Tourism Bureau, made a concerted effort to advertise their weekly farmers market to campers this year and saw more park visitors attend the market this year than ever before.

The next step in better linking the park and town is taking shape in the form of a trail that could be biked or walked from the covered bridge up the hill into town. MSV is currently partnering with the Southeast Indiana Mountain Bike Association (SIMBA) to procure grant funding for that endeavor with hopes of having a trail carved and ready to use by next summer.

As a whole, Harley says MSV has a mission to "revitalize our community through business and economic development and community engagement." The actions the group takes and partnerships they form are born from this purpose, and Harley believes there is still plenty of room for growth and quality improvements in town while maintaining its small charm.

Currently, she says the group has more ideas than manpower, so there is an open call for new members and volunteers. Main Street Versailles meets on the first Thursday evening of each month and welcomes volunteer assistance for any and all of their activities. They plan to conclude the year with their annual Holiday Affair on the Square. See today's front page for specific details regarding that event.