Adams takes last steps as USPS carrier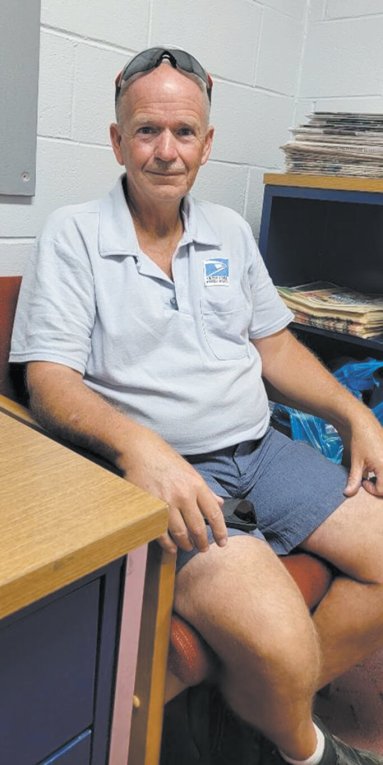 HarleyJo Kennedy Photo
What makes a career worthwhile? Many years of service? Keeping the same job, one starts with for numerable years? Enjoying your co-workers? Providing for one's family, well? Good benefits? Paid time off perhaps? Maybe a job that keeps you in good shape and healthy?
According to Jim Adams, Osgood, he had all those! And, he had them for 40 years.
He actually has worked for just under 40 years, but has not taken sick time, except for a 12 week leave when he had to have elbow surgery. But after that, he was back on the job continuously, until just now when he is about to retire.
Because of the benefits working for the United States Postal Service (USPS), Adams has accrued about a year and a half of sick time. USPS will now compensate him for the many hours he worked without taking sick days. What a retirement bonus!
Adams recalls many years ago, before he was hired at Osgood USPS, he worked on a farm for none other than the Post Master, Bob Braley. Braley encouraged Adams to take the Civil Service Test to apply for employment. A task that previously was required to work for the USPS.
Adams took the test and passed. But he did not get hired for another five years! Obviously, patience is one of Adams many virtues.
For 40 years Adams has walked a 13-mile route as the only walking mail carrier in Osgood.
When asked about the worst day on the job, Adams emphatically states "Winter! Last Christmas when we had a LOT of snow and sub-zero temperatures! That is the worst."
When asked about his best day, Adams laughingly states, "August 30!" but then recants and says "all days are good, just some are better than others."
When asked about why he is retiring now, Adams emphasizes "I do not want to do another winter. You can dress for the cold, but I will not miss walking through snow!"
Adams describes the changes in the position he has fulfilled. "When I started there were mostly letters and few packages." He is quick to note the daily Amazon deliveries USPS gets directly from the Amazon warehouses. "Many more packages and very few letters now."
Asked about the reduction in catalogs since his start in 1984. Adams grins and says "Oh yeah! Those Sears & Roebucks catalogs every house got!" So, while there have been many changes, carrying a heavy loaded bundle is still just as heavy.
Adams insists, "I'm not going to quit work. I'm just going to quit working for USPS."
He goes on to divulge he will take a few weeks to catch up on things he has put off at home; but then, "I will work part-time somewhere else." Adams has no specific job in mind … other than his two-year-old granddaughter who will be his "new" boss.
Adams does not seem to feel he has done anything monumental. He indicates it was a good job and provided well for his family.
And, as unassuming as he may be, we, at Ripley Publishing celebrate this illustrious career that has spanned decades without even taking days off for illness.
His family agrees this is a major milestone! Even though he has insisted nobody make a "bid deal" about his retirement. From what he suspects his wife is planning "a little something."
So, on August 30 we bid farewell to an icon, walking about, delivering mail in Osgood. However, Adams hopes his replacement will enjoy the career he has appreciated so much.
One bit of advice he leaves for his worthy replacement "just continue to treat the people well." Adams goes on "when you treat people well, they treat you well."