Adopt or Sponsor? Solutions for holiday shopping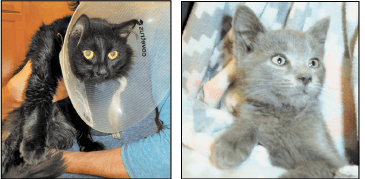 SUBMITTED PHOTOS
Stop fretting about holiday shopping for the individual who has everything! You can ease your worries by other gestures of giving which will reap benefits that extend far beyond the typical wrapped Christmas box or gift card. Helping homeless animals is a perfect way to convey your caring and generosity.

There is nothing more heart-warming than a cute little kitten or puppy, but older cats and dogs need love, too. The shelter has some of each, and they all need someone to care. When one of our animals is adopted, it makes room for others who desperately need a home. Many of us already have one or more of these furry friends, and others offer handouts to feral or abandoned cats who roam the countryside or city streets. The shelter managers remind us that if you have allergies and or cannot have animals in your home or apartment for other reasons, consider sponsoring the care of one animal for a month, or underwrite the veterinarian expenses for a new resident that arrives in need of medical care. Any donation will significantly help the shelter to provide a safe environment and humane care. Of course, our shelter staff is always eager to help you find the perfect pet for you to adopt or sponsor.
Please stop by the Ripley County Humane Society or give us a call to learn more about how you can help,
Some ideas to consider:
$5-10. Donate a box of clumping cat litter, toys, blankets, laundry detergent, or dog treats.
$25. Adopt a cat or kitten that has been fully vetted which includes spaying or neutering for adult cats.
$30. Sponsor the care of an animal for a month.
$75. Sponsor spaying or neutering for a cat or dog.
$ 100 + Underwrite the care of a sick or injured animal who needs emergency medical treatment or surgery.

Many of you are animal lovers, so this year when you are searching for the ideal gift for someone who doesn't need or want anything for themselves, consider giving a donation in their name. This is also a wonderful way to honor an animal lover who has passed away. Any amount will be cherished by the Ripley County Humane Society. Your donation is a sure way to simplify your holiday shopping and to relieve your concerns about standing in line for holiday gift returns!

For more information, call the Humane Society: 812-689-3773 or visit the website or Facebook pages of the Ripley County Humane Society: rchumane@netzero.com. You are always welcome to "shop in person" at the shelter located at 1202 W. County Road 150 North, just off Highway 421 between Osgood and Versailles. The facility is open to the public every day from 10 a.m. until 4 p.m.