Annual CAC Fundraiser:
for the children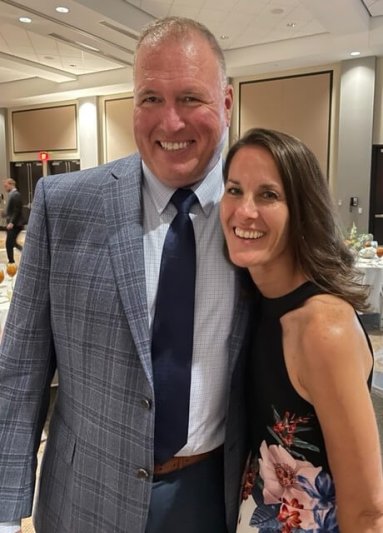 SUBMITTED PHOTO
Plans are in the making for the Children's Advocacy Center's (CAC) annual fundraiser, the Mardi Gras Ball, which will be held February 19, 2022 at the Lawrenceburg Event Center. The event draws a large crowd and is usually sold out well before the event takes place. There will be a dinner, silent auction, and a live auction the evening of the event. The band, Naked Karate Girls, will perform again this year. The highlight of the evening is the crowning of the king and queen. A couple from each of the local counties served by the CAC raise money and the couple that raises the most money is crowned king and queen. Representing Ripley County are Kurt and Beth Enneking.

Kurt and Beth Enneking have been married for 26 years and have lived in Ripley County for the last 24. Early in their marriage, Beth worked at Aurora Casket Company and continues her over 26 year career in the funeral and cemetery industry working for ClearPoint Federal Bank & Trust in Batesville. After graduating from Purdue University, Kurt started his career in landscape design and sales. For over 11 years, Kurt owned and operated a landscape construction and design company in Ripley County. In 2010, he was offered the position as an investigator at the Ripley County Prosecutor's Office. After accepting, Kurt quickly learned that he loved working in law enforcement, and it was there that Kurt was introduced to the Children's Advocacy Center of Southeastern Indiana.

Beth, too, has a passion for causes, which help children who are victims of their circumstances. She served on the Safe Passage board of directors for over 3 ½ years and is currently serving on the board of directors for the Batesville Area Arts Council. Dedicated to the community, Beth and Kurt are also active members of St. Louis Church.

In 2015, Kurt left the prosecutor's office to become Chief Deputy with Sheriff Jeff Cumberworth's administration. Kurt oversees investigations at the Ripley County Sheriff's office and their officers frequently call upon the CAC for assistance with child interviews.

Beth and Kurt are the proud parents of two grown children. Leo is an Indiana University graduate and an accountant in Indianapolis. Mason is a sophomore at Indiana University studying English Literature and History.

You can support Kurt and Beth by going to the CAC's website at cacsoutheast.org and clicking on the Mardi gras tab. From there, scroll down and click on the "Donate Now" button just under Kurt and Beth's name. Follow the prompts from there to make a donation.

If you are interested in attending, now is the time to get your tickets as the event sells out quickly. You can also purchase tickets or a table on the CAC's website. Tickets are $85 each or a table of ten is $800. For any question, please contact the CAC at 812-432-3200.