Aquatics go to 3-0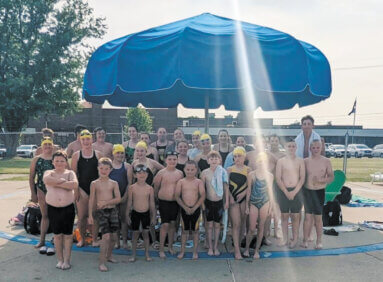 SUBMITTED PHOTO
The Milan Aquatics notched a third-straight win this summer after another lopsided victory on Monday in a home dual match against South Dearborn.

It was another 300-plus point win for the Aquatics on Monday. Milan won with 675 points while the South Dearborn Sea Dragon summer squad was runner-up with a total of 350 points.

Caiden Felver, Tracey Franklin, Elizabeth McKittrick, Cooper Mutz and Dylan Thomas were all impressive in the meet, picking up four individual wins apiece. Lainey Stock and Taylor Stock nearly matched that with three wins apiece while two wins each came from Molly DeWire, Molly Knecht, Ross Lieland and Gabe Rigdon. Single-event winners for Milan were Levi DeWire, Kora Kitchell, JJ Mutz, Brody Stock and Seth Thomas.

Nine swimmers were winners for Milan as part of the relay events. Noah Begley, Liam Brabender, Hannah Cooney and Lucas Cooney were all winners as were Ashlyn DeWire, Manny Hudepohl, Averi Jones, Caroline Niese and Loki Smith.

Milan (3-0) was set to hit the road on Wednesday afternoon, traveling to Jennings County for a dual meet.