Aquatics win SEISA title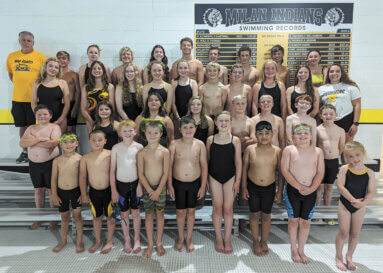 SUBMITTED PHOTO
Milan Aquatics put an exclamation mark on its summer season last Saturday, laying claim to the Southeastern Indiana Swimming Association Championship at Jennings County.
The title is the fourth for the program in conference history since 1976. Milan's victory allowed them an unbeaten summer season.
In the end it once again came down to a pair of Ripley County swim programs with Milan fending off Batesville by a 1737-1648 score for the championship. Decatur County was third with 1593 points and Hidden Valley was fourth at 995 points. Southwestern (Hanover) rounded out the top five with 764 points while South Dearborn and Jennings County were next in line with 506 points and 364 points respectively. Switzerland County was last in the standings, scoring 215 points.
Elizabeth McKittrick, Tracey Franklin and Taylor Stock all scored four event wins on the day. McKittrick won the 200 freestyle, 50 freestyle, 100 freestyle and 50 backstroke in the 18U Division while Franklin competed in the 10U Division, winning the 50 free and 100 free while also laying claim to the 50 breaststroke and 50 backstroke. Stock was a winner in the 12U versions of the 50 free and backstroke, 100 free and 100 individual medley.
Milan state finalist Dylan Thomas broke the 18U 50 breaststroke conference record in a time of 28.21 seconds and also set the record in the 50 backstroke at 25.69 seconds. He rounded out his day with a win in the 100 individual medley. Ross Lieland picked up wins in the 10U 50 free, 50 fly and 100 free alongside a runner-up spot in the 50 backstroke. Caiden Felver won the Boys 10U breast stroke, 50 backstroke and 100 individual medley and had one second place finish. Lindsey Franklin won the 10U butterfly and 100 individual medley while Harrison Hileman was a winner in the 8U 25 free and 100 individual medley.
Alaina Stock, Kami Laws, Brody Stock and Scarlett Beiser were all single-event winners for the Aquatics. Relay winners for Milan included the following: Liam Brabender; Lola Beiser; Allie Jo Buchanan; Caroline Niese; Averi Jones; Loki Smith; Abner Gabriel; Gabe Rigdon; Brady Begley. Runner-up spots for Milan were also handed out to JJ Mutz, Molly Knecht, Ashlyn DeWire, Levi DeWire, Cooper Mutz and Elias Howard.
Results for Batesville were not provided by time of print. The SEISA portion of the summer is now complete and local swimmers now prepare for regional competitions around the state.