Armed home invasion defendant from Cross Plains to plead guilty Wed.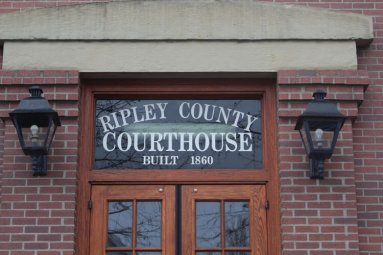 WANDA ENGLISH BURNETT PHOTO
On March 4, Daniel Curran, age 30 of Cross Plains, is scheduled to plead guilty and be sentenced to Burglary with a Deadly Weapon as a Level 2 felony for his actions that took place in Cross Plains on June 29 last year. The agreement that both he and his attorney have signed calls for a sentence of 27 years with 5 suspended.

On June 29 the probable cause affidavit sets forth the chilling allegations of when the victim heard her dog barking and then a knock on her door late at night. She was met by a masked individual with a gun who confronted her and demanded she take off her clothes. The victim didn't follow his orders and commands and was able to get him outside of her home in the driveway. She then came to recognize Curran through the mask and begged him to take it off, with Curran ultimately removing the mask. The victim managed to escape from Curran back into her home and immediately called police.

Indiana State Police officer, Jared Black, initiated the investigation with assistance from other detectives and was able to locate Curran's vehicle. The probable cause indicated that Black, after he found Curran's vehicle, located a mask and weapon in plain view. Initially, in the probable cause affidavit, Curran denied involvement.

Prosecuting Attorney, Ric Hertel, called the victim in this matter one of the strongest and bravest people he's met during his time in the criminal justice system. She fought off an armed man in her home and refused to do as he asked. She, like others though, has to endure the mental and emotional strain of having someone break the safety and sanctity of their home. This takes time and Hertel hopes that this resolution in the criminal justice system will help her healing process.

Hertel indicated that she intends to make a statement at the guilty plea and sentencing set for Wednesday. He went on to commend Sgt. Black for his quick response and thorough investigation in this matter collaborating with other officers and detectives to make a quick apprehension of Curran.