Arrest made after drug bust in B'ville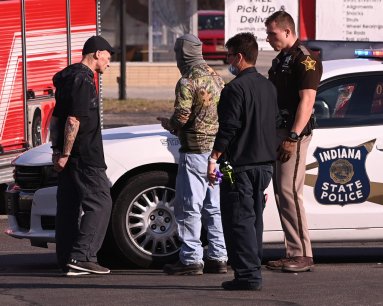 PHOTO BY RICH FOWLER
On Wednesday evening, March 16 multiple police, along with other agencies had made a traffic stop in the Lammer's Pike area. A closer look revealed officers had someone pulled over and were searching a vehicle that ultimately led to Eric Eugene Miller, 46 of 45 Oakmont Pl., Batesville, being taken away in handcuffs.

Miller was booked into the Ripley County Jail on that day on charges of Possession of Methamphetamine, Possession of Marijuana/Hash Oil/Hashish/Salvia, Public Administration-Obstruction of Justice and Controlled Substance – Possession of Paraphernalia.

Miller was strip searched with Batesville Paramedics, Indiana State Police and undercover units, Sheriff's Department and Batesville Police participating in the initial arrest.
The case is being worked by the ISP.