Author inspires students to enjoy the great outdoors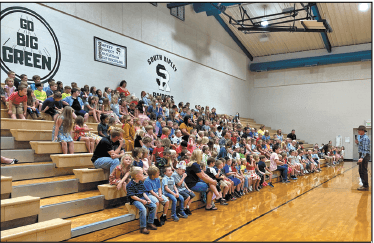 SUBMITTED PHOTO
What better way to begin a new school year than to meet a published author!

Minnesota author, speaker and outdoor enthusiast Kevin Lovegreen finds great joy inspiring kids to read, write and enjoy the outdoors. He visited with students at Batesville Intermediate School, Milan Elementary, Jac-Cen-Del Elementary and South Ripley Elementary on Thursday and Friday, August 12 and 13. Lovegreen is the author of the award winning Lucky Mike's Hunting Adventures series of 15 books that he presented to each school library. As a world class speaker, Lovegreen uses his unique outdoor theme to inspire, teach and entertain kids.

An avid hunter and fisherman, Lovegreen bases his stories on true adventures in his childhood and on adventures with his own children. He told students that he has only been writing books for 10 years and showed them the journal he started when he was 12 years old after his first white tail deer hunt (a journal that he kept until age 30) to record his experiences. He told students he had so much fun on that hunt that he wanted to write it down so he would never forget it and said he never imagined that journaling would lead him to become a published author.

His animated presentation connected with students and they especially enjoyed the "call challenge" when he demonstrated various animal calls he uses while hunting and challenged the students to identify the call and whether it was the male or female call of the animal. Kids also heard many hunting and fishing tips to use on their own adventures.

A special evening presentation on Thursday at Old Timbers Lodge on Big Oaks National Wildlife Refuge offered as opportunity for families to meet Kevin. This was the perfect setting to experience Lovegreen's message.

Lovegreen ended each presentation with answering kids' questions and reminding them that every time they read they become smarter and they should pat themselves on the back each time they finish a book because they are "that much smarter". He emphasized the importance of spending family time together (especially in the outdoors).
Visit www.kevinlovegreen.com to follow Lovegreen or to order his books.

Thanks to the sponsors of this event: Capability Farm (Bob and Ellen Mulford), Big Oaks Conservation Society, Southeastern Indiana REMC (roundup grant), Delta Rho Tri Kappa, Ripley County Communication Foundation (small grant).