Baking led Batesville veteran to a better position in the Korean War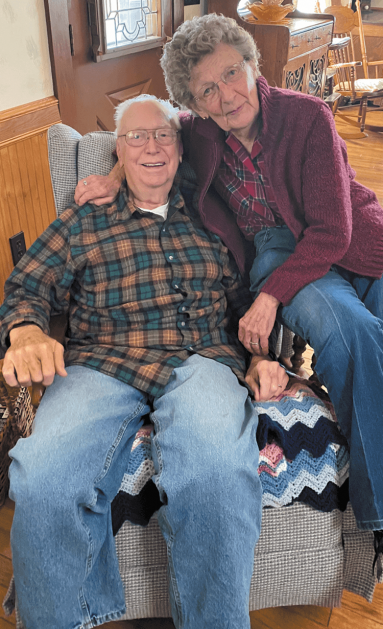 WANDA ENGLISH BURNETT PHOTO
A young boy helping nuns bake at Oldenburg never dreamed that job would come in handy a few years later when he served in the Korean War on the front lines.

At the age of 19, Paul Fullenkamp found himself on a bus ride to a Michigan Army Base, where he said he was issued military clothing, and was off to war in February of 1952. He wasn't a stranger to war, he had four brothers who served in World War II at the same time – two in the Navy, one Army, and one Marine.
He came home on a furlough in June to marry his bride, and went back to serve his country. "You never knew when rounds would go off," he noted of the mortar rounds and explosions they would bring. He said when they heard them they immediately laid flat on the ground. "It was so close it pushed my helmet off," he remembered. He also recalls being so tired after being up for endless hours that bullet holes went through the tent he was sleeping in and he didn't even hear them.

"Oh, the winters were so cold there," he winced just remembering the frigid air the soldiers endured. They had foxholes, literally holes dug into the side of a hill covered with sacks of sand and tarps. "That was our living quarters," he smiled. He tells harrowing stories of being inside the foxhole and waking up to seeing footprints all around the outside, yet no one was injured. "Prayer makes a difference," he stated, saying those were enemies outside their make-shift dwelling. His wife agreed everyone at home was praying for Paul's safe return, along with others during that period of time.

Paul didn't dwell on the negative, but rather the positive. He was a sharp shooter, and told about his special-type of rifle that had a tripod on the front of it, "kind of a noisy thing". He learned a lot about the country he was in, and knew what he called "Rock" soldiers, who were South Koreans fighting with them. He said once he saw a group of people from a distance he would later learn had leprosy.

The good times came after he got the job of being the "baker" at camp. That's where this story started. When he learned the baker had been released to come back to the States, he decided he would try for the job. Why not? He had experience, didn't he? He had baked with the nuns in the seventh and eighth grade at Oldenburg! And, that's how this Indiana boy became the baker for the unit. He told them he had experience – which was no lie- and he was given the job. It was one of his fondest memories of the war. "It was Christmas Day 1952," he noted. Right in the middle of a war-torn country with fighting all around, Paul was mixing cakes and bread and doing the baking for the men.

The Fullenkamps said they wrote each other every single day when Paul was in the war. Every day. And, Dottie had every single letter saved in a trunk until one day her parents had cleaned out some things, and the letters were gone. "My heart just sunk," she said, still sad when she talked about losing that part of her life. Dottie's grandfather, Michael Senft, was in the Civil War and said the story goes he went in for $100 and a horse.

Paul made Sergeant and got his high school diploma while in the service. He says he is proud he served and loves his country. He is proud of his brothers as well, who are deceased now. They received great honors while in the service that made the headlines at home.

Dottie was employed in the telephone office in Batesville. She tells a story of her near brush with death and says while her husband was off having bullets whiz past his head, well, she had a similar experience. She said her folks decided since she worked the night shift she needed some protection. In the process of showing the gun, it accidently went off with a bullet literally going just past her head and lodging in a table of her mothers that she has to this day!

When Paul came home from the war just a day shy of serving two years, he was ready to put that behind him and start his life. He built his own house, bought Dunlap Hardware Store in Batesville in 1973, and just sold it last year. "We don't know what the next chapter of our life will bring," laughed Dottie, who is 88-years-young. Paul is a woodworker and has made one-of-a-kind items for his family members and others that are both articulate and hold special memories.
Born 90 years ago on November 12, Paul Fullenkamp was one of 10 children, having seven brothers and two sisters. He married the love of his life on June 26, 1952, Dorothy "Dottie" Senft and they celebrated 68 years this year. This union brought forth five children: Steven, Cindy, Mark, Paula and Leo. "They're good kids," Paul said. Their mother echoed the sentiment and said they were raised strict and went to St. Louis School. They also have 17 grandchildren and 26 great-grandchildren and one due on Dottie's birthday. They have two grandsons and a granddaughter who have also served in the military.

"It worked out pretty good after all," Paul would say throughout the interview. "I've had a good life."