Bastin to continuerunning career at UE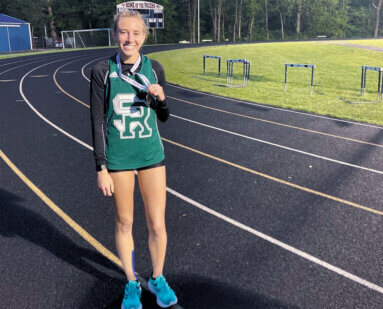 PHOTO COURTESY OF SR TRACK
It's no secret what South Ripley has been able to accomplish as a small school inside both cross country and track and field. The programs have thrived thanks to perhaps the school's most consistent foundation of coaching and a slew of determined student-athletes who have had notable success.

One of those with a helping hand in that winning tradition has been Shelby Bastin and the newly-graduated South Ripley senior has her sights set on now helping an NCAA Division I program with its success as she gets ready for a running career at the University of Evansville.

Bastin, a standout in both cross country and track and field, signed her National Letter of Intent with the Purple Aces back in January of this year.

"My dreams have finally come true," Bastin said of her signing. "I could not have accomplished this without the help and support from so many people. I have been blessed with the most supportive and uplifting coaches and teammates who have always cheered me on and helped me make the best memories."

It was fitting to write this article in the summer when Bastin's accolades would be finalized and etched into school history. With her run times recorded as some of the absolute best in the record books at South Ripley, those same minutes and seconds gave way to an incredible ensemble of achievements which were rounded out this spring when she was named to the All-ORVC Team in the 1600 meter run and was a regional qualifier in the same event. She spent the early spring as a Hoosier State Indoor Relay qualifier in the 3200 run.

Also an All-Conference pick in the 3200 relay her junior season which gave way to an IHSAA Track and Field Regional bid, Bastin's multiple Most Valuable Performer and Most Improved nods in both running and field events paired with four years worth of fall success as a member of the cross country team. A semi-state qualifier in the fall of 2022, she was Most Valuable Runner on numerous occasions as well as a two-time regional qualifier alongside local honors such as All-County, All-Conference and All-Sectional throughout her career. Other awards included Most Improved, Senior Academic Award Winner and the ORVC's Mental Attitude Award recipient.

Impressive, right? It's a body of work that Bastin takes great pride in as would any student-athlete, but it's her love for the camaraderie of high school sports that truly displays the kind of ambassador she has been for South Ripley.

"My favorite memories are shared with my teammates," Bastin said of her time as a Raider. "They became my best friends and my family. They encouraged me and were always supporting me. My favorite memories were eating out after meets while laughing with my teammates."

Evansville is getting a trifecta of a talent when it comes to Bastin as her athletics and love for friends and family blends with an outstanding performance inside the classroom, graduating from South Ripley with top academic honors.

The Purple Aces are rebuilding both their cross country and track and field programs and are looking to make some serious strides inside a competitive Missouri Valley Conference which features the likes of Indiana State, Valparaiso, Southern Illinois, Bradley and Northern Iowa. Evansville will be led by second-year head coach Brooks LeCompte who has had previous stints at Western Kentucky and LSU.

The fall of 2023 will see Bastin major in Exercise Science in an effort to pursue a future career as a Physician Assistant. Her excitement not only lies with her enrollment and academic endeavors, but also with her future as an NCAA student-athlete.

"I love that UE is a small campus that feels like home and they were very generous with scholarship offers," Bastin noted. "I want to better myself as a runner to reach my full potential. I want to try new things and learn more about myself as a runner. I'm also looking forward to the relationships I will form with my teammates."

Bastin, who resides in Versailles, is the daughter of Ben and Karen Bastin. Her younger sister Ava will be a sophomore this upcoming fall at South Ripley.