Batesville bests South Ripley on Monday, each earn Tuesday win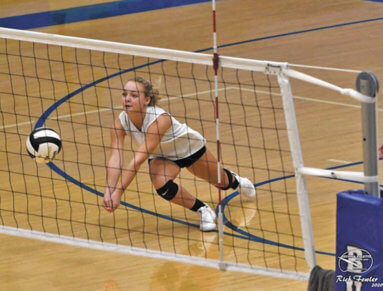 Rich Fowler
Two Ripley County rivals in Batesville and South Ripley collided on Monday night but the two schools went their separate ways to pick up wins in volleyball action on Tuesday night.
Monday´s season opener saw Batesville sweep the Lady Raiders 3-0 at the Dog Pound. The Lady Bulldogs won the first and second sets by scores of 25-17 and 25-11 respectfully before South Ripley tried to make a comeback in the third set. 
The Lady Raiders pushed the set to the brink before Batesville slammed the door and completed the shutout, taking the set 26-24. 
Katherine Bedel was the leading hitter for Batesville, going 9-of-11 with nine kills. Kylie Laker was 14-of-14 serving with two aces. Cayman Werner´s setting and Nikki Fox´s defense were also pointed out as contributions on the night.
Rachel Meyer led South Ripley in kills while Gracie Gunter was the team´s leader in aces and digs. Brionna Linkel led the way in assists. 
Batesville made it two wins in a row to start the season with a hard-fought 3-1 win over Madison at home. The Lady Bulldogs were pushed right out of the gate, having to play extra to win 28-26 in set one and 26-24 in set two. Madison responded with a 25-20 victory in the third set but Batesville came back to secure the win 25-22 in set four. 
Laker again led, going 20-for-20 serving with two aces and added 10 kills while leading the team in assists. Bedel followed with nine kills in the match. 
In Versailles on Tuesday night, South Ripley opened its 2020 home campaign with a 3-0 win over Austin. 
Austin hung around but the Lady Raiders gradually distanced themselves throughout the evening. South Ripley won 25-23 in the first set and came out of a break with a 25-21 win in set two. Ripley finished off the Lady Eagles 25-17 in the third set. The victory marks the first career win for first year head coach Lisa Gilpin. 
South Ripley (1-1) visits ORVC rival Jac-Cen-Del on Friday night and entertains conference foe Switzerland County on Tuesday.
Batesville (2-0) travels to Shelbyville on Saturday and hosts Eastern Indiana Athletic Conference rival Greensburg on Monday.