Batesville Chamber of Commerce celebrates 100 years of service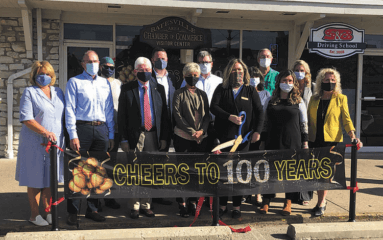 SUBMITTED PHOTO
The Batesville Chamber of Commerce had a beautiful day on Thursday, October 8 to celebrate being in business 100 years. They marked this anniversary with a membership drive with Mayor Mike Bettice declaring a proclamation.

The Chamber was established in 1920 to provide excellent financial management services to its members. It was noted in the proclamation that the Chamber has survived the Great Depression, several wars, and most recently, a global pandemic. Throughout all of that it has continued to provide services, resources and leadership to its members and the community to ensure long-term success.

According to Tricia Miller, executive director of the Chamber, there are approximately 240 members, all of whom are greatly appreciated. "Being told you're appreciated is one of the most uplifting things you can hear. First, I want to thank all the Chamber members, my amazing staff, Melissa Tucker and Elizabeth Hall and our Board of Directors," Miller noted. She said, "We are so fortunate and blessed to live in such a caring and strong community. I know that so much has changed in a short period of time-the world around us, our neighborhoods, gather spaces, the places we work and wor
ship."
Miller said, "Life in the midst of this pandemic has sparked fear, frustration and anxiety all around. It's easy for distractions, criticism and stress to creep in. I say be kind anyway because during this unprecendented time, there is nothing more important than ensuring the health and safety of our community and workforce." She encourages everyone to support local businesses, community organizations, schools and health professionals.

The Chamber, under the leadership of Miller, is moving forward providing leadership, creating partnerships and maintaining relationships. This will enable them to provide economic growth to the community it serves.