Batesville falls to 0-4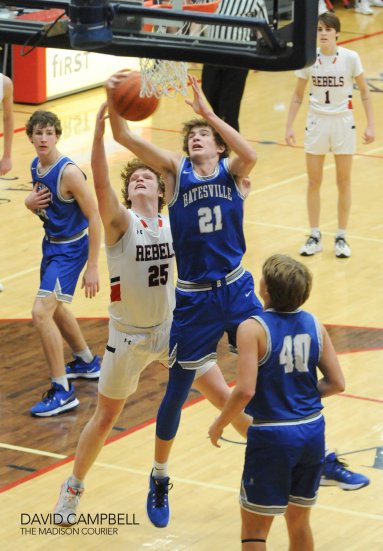 PHOTO BY DAVID CAMPBELL
A rough start to the season continues for Batesville boys basketball as the Bulldogs fell in a pair of weekend road contests.

Batesville was held to a season-low in points on Friday night, falling 43-24 at Lawrenceburg. Despite the lack of offense, the Bulldog defense kept things interesting in the first half as Aaron Garrett's team trailed just 15-14 at halftime but the host Tigers escaped the stranglehold in the final two quarters and pulled away for an Eastern Indiana Athletic Conference victory.

The Bulldogs were held to only 10 points in the second half as Lawrenceburg went on quarter runs of 13-6 and 15-4 in the final two frames to remain unbeaten on the season. The Tigers are now 4-0, including a Saturday night win against Switzerland County.

Cole Pride led Batesville in the game with six points while Cody Mohr and Eli Pierson each scored five points.

Saturday's game at Class 2A No. 16 Southwestern (Hanover) played out much the same for Batesville who trailed by just a point at halftime but ultimately fell by a 68-52 score.

The Bulldogs seemed to have shrugged off their woes on offense, posting 29 points in the first half to trail a high-octane Southwestern offense just 30-29 at the intermission. But yet again, a scoring drought proved to be a second half difference. The Rebels surged quickly in the third quarter, using a 17-5 run to lead by 13 points through three quarters and the advantage trickled up to 16 points by the end of the night. Batesville returned to form with 18 points in the fourth period but the resurgence was too late.

It was a big scoring night for Batesville's Thomas Raver who led with 23 points on 8-of-14 shooting but the senior forward was unable to find consistent help in the score column. The Bulldogs, who shot 45 percent from the field and 50 percent from the three-point line in the first half, saw their numbers dwindle to 34 percent from the floor in the second half and 27 percent from beyond-the-arc.

Pride added eight points and Pierson went for seven points while the Bulldogs got six points apiece from Mohr and Sam Johnson. Raver had seven rebounds in the game and freshman Cade Kaiser dished out a team-high five assists.

Southwestern (4-0) put three players in double figures including senior forward Parker Davis who led all scorers with 26 points on 9-of-12 shooting. He also had seven rebounds for the night. Zach Cole had 16 points, nine rebounds and eight assists while Colton Cloud added 11 points. Jamison Lewis led all in the game with 10 rebounds.

Batesville (0-4, 0-1 EIAC) hosts Milan on Thursday night in a Ripley County rivalry game and then visits conference rival East Central on Saturday.