Batesville fifth at state preview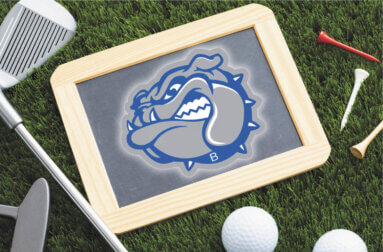 Batesville girls golf staked its claim as one of the top teams in the state a year ago after advancing to the IHSAA State Finals and appearing in the state rankings for much of the year. The Lady Bulldogs showed on Saturday that this year will be a repeat plus more.

With 16 of the top 20 teams in Indiana making the trip to the Prairie View Golf Club in Carmel, Batesville put in an early bid as a strong contender among the group, finishing fifth out of 18 teams in the State Fall Preview match. The preview is designed to showcase the state's best, many of whom had competed at Prairie View last fall as part of the state finals.

The Lady Bulldogs, who were 14th out of 15 teams in the state finals last year with team scores of 392 on day one and 376 on day two, returned on Saturday and were over 40 strokes better, carding an 18-hole team total of 334 for their fifth place finish. Just one stroke ahead was No. 6 Hamilton Southeastern at 333 and No. 2 Castle finished third with a 320. Top ranked Carmel won the state preview with a 305 and No. 4 Westfield was runner-up at 311.

Westfield, Castle and Carmel were all top five finishers at last year's state finals that was won by Evansville North. Homestead, who finished state runner-up, sat in eighth place on Saturday. Other top 10 finishers in the preview included Noblesville in sixth, Franklin Community in seventh, Western in ninth and Center Grove in 10th.

Batesville had a senior and a freshman finish among the top five individual finishers. Senior Emma Weiler and freshman Ava South each carded an 18-hole three-over par 75 for the day, tying the duo for fourth place inside the field. Weiler now has two wins and a fourth place finish to start the season while South, a transfer from South Dearborn, made her Bulldog debut on Saturday after a successful summer campaign.

Addyson Weiler put together an 89 in the scoring round for Batesville and Josie Meyer came into the clubhouse with a 96. In a non-scoring round, Madelyn Pohlman finished with a 113.

Batesville was at home on Monday, hosting Connersville and Columbus East in a three-way match at the Hillcrest Country Club. The Lady Bulldogs return to tournament play on Saturday, going to the Legends Golf Course for the Franklin Invitational.