Lady Bulldogs sixth, South third at state finals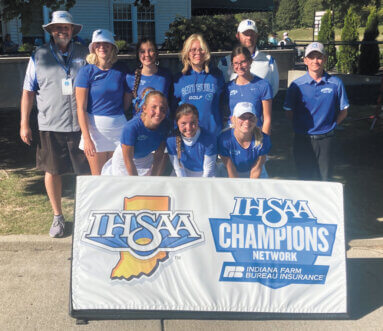 PHOTO COURTESY OF BATESVILLE ATHLETICS
Batesville girls golf made its second consecutive go at a state championship this past weekend and while a title did not come home, the No. 6 Lady Bulldogs certainly made some major noise by the end of Saturday, placing sixth overall in the IHSAA Girls Golf State Finals at the Prairie View Golf Club in Carmel.

Both years at the state finals are the only two team appearances for Batesville at the highest level of competition in program history. The sixth place finish was a major improvement from the 2021 appearance when the Lady Bulldogs placed 14th overall with a two-day team score of 768. Batesville's 2022 was not only eight spots better, but the team score improved by over 100 strokes.

By Saturday evening, Batesville had wrapped up sixth with a team score of 661. Friday saw head coach Tom Meyer's team tied for third place with Homestead, Culver Academies and Castle with a score of 329 but Saturday's 332 for the Lady Bulldogs dropped them ever-so-slightly on the leaderboard, placing them in the exact same spot of their state ranking. Carmel shook free of the pack on Saturday with a 306 and claimed the state championship by 14 strokes with a 629.

Castle and Center Grove tied for second with a 643, Homestead was fourth at 657 and Culver Academies placed fifth at 658. No other area team was featured in the 18-team state field.

As impressive as Batesville's run was over the weekend, at the same level stood freshman Ava South for the Lady Bulldogs who was making her first appearance in the state finals. The sights and sounds of the biggest match of the year never phased her and South was named first team All-State after finishing third overall among all competing individuals.

Perhaps some early jitters played a factor in the early going but Friday saw South eventually get some major rhythm out on the course going, finishing her first 18 holes in second place on the leaderboard with a two-over par 74. That second place finish stood for the majority of Saturday before a few shaky holes shot up her day two score and the freshman finished at 78 on the second go-around, tallying her score up to a combined 152. She was one stroke off finishing as state runner-up. Castle sophomore Ashley Kirkland scored a 151, shooting an even-par 72 on her second day.

Columbus North freshman sensation Ava Bunker won the individual state championship. Bunker, who has won 90-plus tournaments throughout her youth and high school career, shot a three-under par 69 on Friday and a one-over par 73 on Saturday to win the state title. Her two-day total added up to 142.

Batesville did put one other golfer on the All-State team as senior Emma Weiler was named to the team for the fourth-straight year after an overall finish of 19th at the state finals. Weiler finished with a two-day score of 160, shooting a 79 on Friday and an 81 on Saturday. The remainder of the Lady Bulldog roster saw Addyson Weiler tied for 44th with a 172 (88-84) and Josie Meyer tied for 51st with a 177 (88-89). Senior Madelyn Pohlman wrapped up her career with a 214 in the non-scoring round.

The Lady Bulldogs lose Emma Weiler, who is committed to Marian University to play golf, and Pohlman, but Batesville brings back South, Addyson Weiler and Meyer next season with hopes for a third-straight state finals appearance. Coach Meyer and his staff would like to thank the many around the area who supported the program this season and during their state run in 2022.