Batesville golf duo set for state finals return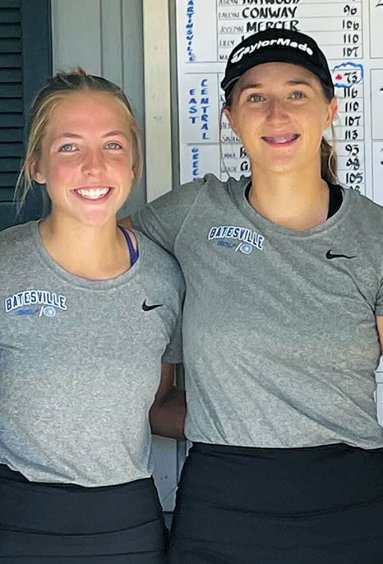 PHOTO COURTESY OF BATESVILLE GOLF
Batesville's girls golf saw its overall team success come to an end after getting bounced in perhaps the toughest regional tournament in the state last Saturday afternoon, but that doesn't mean the season is over quite yet for the blue and white.
As a matter of fact, the high hopes of a state championship still remain for the Lady Bulldogs and it will be up to Ava South and Addyson Weiler to do just that as the duo gets ready for this weekend's IHSAA Girls Golf State Finals at the Prairie View Golf Club in Carmel.
It marks yet another year in which the two will play on the biggest stage of the high school girls golf season. Although the 10th ranked Lady Bulldogs will not be sending its highly-touted five-player squad for a third-straight season, Batesville head coach Ben Siefert says there is still plenty to be excited for this weekend when two of his top golfers hit the course.
"We knew what we were getting into this season," Siefert said of his team in the postseason. "We knew that we would have to play Floyd Central, Center Grove and Franklin. To our girls' credit, everything we asked them to do, they did. We shot two strokes better than we did in the regional last year. Some days you go and just get beat. I know that Ava and Addy (Weiler) are disappointed the whole team isn't going but this is a unique opportunity for them to go play as individuals and I'm excited for that."
It's safe to say that the Batesville pair has a legitimate shot at competing for a top spot in the state finals and that starts with South, a sophomore who dazzled during her freshman campaign all the way through September when she claimed third place on the overall leaderboard at the 2022 version of the championship.
South earned an individual bid this year after a four-over par 76 in the regional. Last year's state match saw her with 18-hole rounds of 74 and 78, totaling a score of 152 which put her 10 strokes back of eventual state champion Ava Bunker of Columbus North who elected not to play high school golf this season. A second-straight appearance for her this weekend certainly sees her as a top contender given the success of 2022, but her focus right now is just to go out and see improvement.
"I just always strive to improve my score," South said. "I shot eight-over last year so I'd just like to shoot less than that, improve my knowledge on the course and just get another couple of rounds in because the goal is to be there and play for another two years."
Round one on Friday marks a third-straight appearance for Weiler who was featured the last two years when Batesville sent its entire team to the state finals. The junior has done nothing but improve inside those two appearances and was tied for 44th overall last season, shooting rounds of 88 and 84 en route to helping the Lady Bulldogs to a sixth place finish in the team standings. Weiler's expectation is to see herself move up the leaderboard once again.
"I'm aiming for the Top 10," Weiler said of that expectation. "Just like Ava I'm all about improving my score and that's really the goal of any golfer. If I can't get that Top 10 spot then I just hope I'm still shooting my best and playing my best."
Both South and Weiler will be boasting quite the fan base this weekend. Coaches, teammates, friends and two of the strongest support groups when it comes to family will be in Carmel to cheer on the duo. They will need the boost considering Prairie View, while beautiful in terms of scenery, presents a daunting challenge to all golfers who step out on the course.
Even with the two having played at the course multiple times, the magnitude of the state finals and navigating hole-by-hole combines for an uphill battle, regardless of experience.
"I'm really excited," Weiler said of this weekend. "This is what I work for all year. It's a longer course than what we usually play during the year and probably the biggest thing is the sand and tall grass. There's a lot of room but if you miss you get yourself into trouble."
"Practice rounds are vital," South added. "At that course there is a lot of trouble. You have to know where to aim, you have to know what spots to go to and it's all about knowing where you want your ball to go. Every year though this is the end goal for me, to be here and be on this course. Just to be back for a second time as a sophomore I'm just really grateful for that opportunity."
South will be the first player out on the course on Friday when she tees off at hole one for the first round at 8:30 a.m. Weiler follows on the 10th hole at 8:40. Tee times for Saturday will be announced following the conclusion of round one. Live scoring on both days will be available at BlueGolf.com and ticket cost to attend in person is $15 which covers you for both days.
"During the season when you are playing as a team, they (South and Weiler) kind of had to think about their shots and how it would affect the team," noted Coach Siefert. "They can just go up there on Friday and Saturday and plan their game and their own plan of attack. Whether you want to go after it that first day or play conservative, then that's on them. If they want to go out and take their chances then I'm all for it. I will be there to facilitate what they want to do for those two days. They are just two really outstanding golfers and I am proud that they are Lady Bulldogs."