Batesville relay team qualifies for state finals!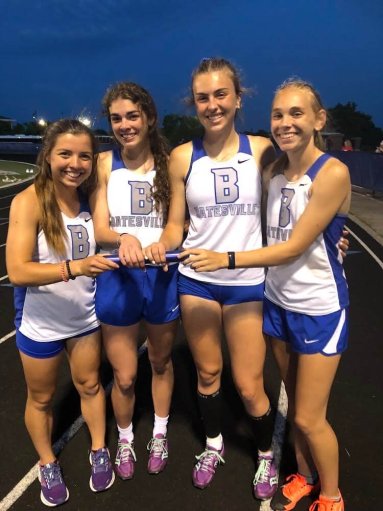 SUBMITTED PHOTO
On paper it appeared last Tuesday night that the coverage area would not have a representative in the state's biggest track and field event of the year but Wednesday morning said differently as Batesville will send its top relay team to the IHSAA Girls Track and Field State Finals this week.

The 3200 relay team of Megan Allgeier, Emma Weiler, Katie Olsen and Kaylie Raver finished fourth in the IHSAA Regional at Franklin Community High School last week and turned in a personal-best time of 9:50.14, shaving 10 seconds off of their previous-best. While automatic state qualifiers are the top three in each of the 16 regional events, potential lies for those just shy of the top three to qualify for the next level if meeting a certain qualifying time or distance.

In the case of the 3200 team, the Lady Bulldogs made the cut. The 9:50.14 sailed past the state qualifying time and put Batesville in the state finals at Indiana University this Friday. It is the first state appearance for the girls track and field program since 2014 when Virginia Westerfeld finished eighth in the 100 dash.

The Lady Bulldogs have quite the history at the state finals, highlighted by four-time state champion Ellie Tidman who is now a member of the Indiana Association of Track and Cross Country Coaches Hall of Fame. Tidman is just one of four girls who are a four-time event champion at the state finals.

This Friday's state finals at IU will be held at the school's Robert C. Haugh Track and Field Complex and begins at 3 p.m. with the 3200 relay event set to go at 4:30. Online streaming of the event can be seen on IHSAATV.org for a pay-per-view price of $10.