Batesville, SR win at EC invite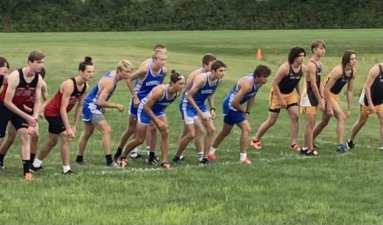 PHOTO COURTESY OF BATESVILLE ATHLETICS
Both Batesville cross country teams and South Ripley's girls team picked up championships at the East Central Invitational on Saturday in St. Leon.

The invitational hosted two separate races on the day. Batesville competed in the Division I race while South Ripley alongside Jac-Cen-Del competed in the Division II race.

On the boys side inside Division I action, the Bulldogs dominated three other teams in the field and won the invitational with a total of 28 points. Hagerstown was runner-up at 51 points while East Central was third with 61 points and Connersville was fourth with 83 points. Batesville's Ean Loichinger was the individual winner of the race, winning in a time of 16:48.7 while teammate Ben Moster was runner-up in 16:54.4 and Daren Smith was third at 17:37.

Kyler Daulton gave the Bulldogs another top 10 finisher among 30 individual racers, finishing eighth in a time of 18:24.3. Batesville was rounded out by Jake Chapman in 18:48.6, Eli Loichinger in 19:18 and Ben Adams in 21:14.2.

The Lady Bulldogs completed the sweep of Division I meets, winning with 25 points as East Central was a narrow runner-up at 31 points. Taylor (OH) and Hagerstown were third and fourth respectively with 81 points and 114 points. Batesville freshman Kaylnn Bedel finished second overall in a time of 19:58.20 and four more runners finished inside the top 10.

Lily Pinckley crossed the finish line in fourth place at 20:46.1, Megan Allgeier was fifth at 20:59.2 and Ava Hanson ran sixth in 21:09.8 while Maria Lopez was an eighth place finisher in a time of 21:18.3. The Lady Bulldogs were rounded out by Madison Rahschulte's time of 22:52.1 and Katie Olsen's time of 24:06.1.
Division II action saw South Ripley come away with 29 points and a championship while Jac-Cen-Del was second with 44 points and North Decatur ran third with 47 points. Hauser and Lawrenceburg competed but did not field full teams.

Four Ripley County runners found themselves in the top five as Lanie Nicholson of South Ripley won the Division II race in a time of 20:22.4 and teammate Emily Campbell was runner-up in 22:16.1. Jac-Cen-Del's Cloey Simon was fourth at 22:56.4 and Kayla Simon was fifth in 23:25.2.

Other South Ripley runners included Deborah Murphy finishing in seventh place at 23:39.6 while Kara Young finished in 26:09.3. Elizabeth McKittrick ran in 27:35.8, Shelby Bastin ran in 28:21.50 and Maria Izco finished at 29:58. Jac-Cen-Del's Virginia Minch ran in a time of 27:33.8 with Allison Peetz and Kinsey Rohls running back-to-back in times of 27:37.7 and 27:44.4 respectively. The Lady Eagles were rounded out by Shelby Reatherford's 28:59.9 and Aliyah Karshner's 34:47.3.

Jac-Cen-Del finished the Division II boys race in second place with 46 points while South Ripley was third with 62 points and North Decatur sat fourth with 68 points. Lawrenceburg won the meet with 38 points. The Eagles however did score the individual win in the boys race as senior Josh Pohle finished first in a time of 17:53.8. Teammate Adam Maloney was fifth in 19:15.2 and Cameron Reatherford was 10th in 20:39.4.

The rest of the Eagles coming across the line were Austin Rohls at 20:49.3, Jacob Ricke in 24:32.4, Gabriel Maloney in 24:48.5 and Austin Hammond in 24:54.6.

South Ripley's Luke Bradley and Logan Bradley ran seventh and eighth respectively in times of 20:03.6 and 20:11.2. Evan Eaglin finished in a time of 21:36.7 while Ryan Gorrell was at 23:36.4 and Cameron Stewart finished in 23:51.4.

Batesville runs on Saturday the Ben Davis Invitational while Jac-Cen-Del plays host to its own invitational on Saturday that will also feature South Ripley and Milan.