Baylor 8th at State Finals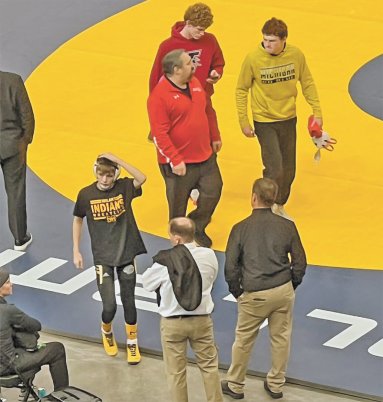 PHOTOS COURTESY OF MILAN ATHLETICS
Matthew Baylor has aspirations to be a state champion wrestler at Milan before his high school career comes to a close. If his performance as a freshman in last weekend's IHSAA Wrestling State Finals is any indication, such a goal certainly looks to be on the horizon.

Extending into day two of the tournament, Baylor came away with an opening round victory and pushed himself among the final eight of the 106-pound class, placing eighth as part of the grand stage at Gainbridge Fieldhouse in Indianapolis to finish out a stellar campaign in year one at the varsity level for the Indians.

Baylor's season rounds out with championships in both the regular season and postseason. His regular season accolades paired with an undefeated record and that unblemished mark extended all the way into the semi-state round of the tournament after racking up individual sectional and regional titles.

Friday's opening round of the state finals in Indianapolis saw Baylor unphased by any nerves, starting his run with an 11-7 decision over Kaleb Salazar (36-6) of Wawasee to advance to the Saturday quarterfinal round. It was that round however that would see Baylor's quest for a state title come to an end, falling by pinfall at the 2:51 mark to Brownsburg's Revin Dickman, the eventual state champion by the end of the night. Dickman (41-5) won his final two bouts by decision to claim top honors in the 106-pound class.

Despite the loss, Baylor still competed in two more matches as part of the consolation bracket but would fall in both showdowns. He dropped an 8-3 decision to New Palestine's Gunner Butt (28-10) and then fell by pinfall to Crown Point's Logan Haney (24-16) in the seventh place match.

Baylor was the only wrestler in the state finals representing Southeastern Indiana and a return trip to Gainbridge Fieldhouse certainly looks to be on the docket for the next three years for the Milan freshman. He ends year one with an impressive 48-4 overall record.