Big 2Q lifts JCD past OA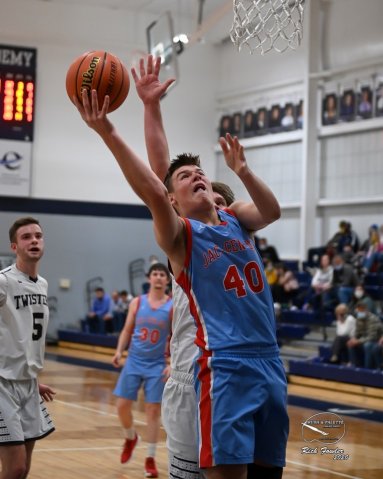 Photo by Rich Fowler
Oldenburg Academy played near even with Class A No. 11 Jac-Cen-Del in boys basketball on Friday night but the Twisters slipped up in the second quarter, giving way to the Eagles picking up a 69-51 victory at Oldenburg.

The two teams stood deadlocked at 15-15 at the end of the first quarter but Jac-Cen-Del's offense sizzled in th second quarter as Oldenburg's faltered. The Eagles blistered the nets for 27 points in the frame while holding the Twisters to just 11 points, which broke the tie and sent Jac-Cen-Del out to a 16-point halftime lead.

Oldenburg came back with a 15-point third quarter and trimmed the deficit down to 13 points but Jac-Cen-Del again responded, finishing out the game on a 15-10 spurt to keep the double-digit lead intact.

The Eagles put three players in double figures as Caleb Simon led all scorers with 25 points. Will Neal scored 19 points and Cameron Gehl added 16 points. Christian Comer and Wyatt Day had five points and four points respectively.

The Twisters shot just 33 percent from the field and were 6-of-29 from the three-point line. Andrew Oesterling led Oldenburg with 21 points and Wil Freeland added 15 points.

Jac-Cen-Del (12-4) entertains Morristown on Thursday night before visiting Class 3A No. 8 Greensburg on Saturday afternoon.

Oldenburg (3-9) visits Triton Central on Saturday afternoon.