Black makes history at Franklin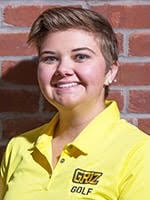 Franklin College Athletics Photo
Whether earning All-American honors through athletic performance or classroom performance, such an accomplishment is a rare feat for most student-athletes. Doing it four times is nearly unheard of … especially around here.

But four times is the case for Mackenzie Black, a Versailles native and recent graduate of Franklin College after she was named an Academic All-American last week by the Women's Golf Coaches Association. She is the first golfer in the program's history to have earned Academic All-American honors in four-straight years.

The 2017 South Ripley High School graduate alongside teammate Mara Wilson was named to the team that recognizes 1432 student-athletes throughout the NCAA and NAIA ranks. Recognition is earned by compiling no less than a 3.5 grade point average, an average that Black has topped in each of her four years while pursuing a degree in Music Theatre. That pursuit has not only included juggling a busy golf schedule, but also performing in multiple concerts and plays while being actively involved in sorority life at Franklin.

On the golf course, Black has enjoyed individual and team success. She placed seventh in a match this past spring at Sultan's Run Golf Course in Jasper and was a top 20 finisher at the Rose-Hulman Invitational before finishing eighth overall at the Franklin College Spring Tournament, helping the Lady Grizzlies to a team title. She had two top 20 finishes prior to her senior season and concluded her career this past April, helping Franklin to a fifth place finish in the Heartland Collegiate Athletic Conference Championships.

Prior to her play at the collegiate level, Black helped South Ripley to an Ohio River Valley Conference championship in 2014 and a second place finish in 2015 while also finishing runner-up in back-to-back seasons in the Ripley County Championship meet. She qualified for the IHSAA Regional in 2015 and 2016.

Black is the daughter of Tony Black and Karen and Greg Huntington.