Bode's one-hitter leads Milan softball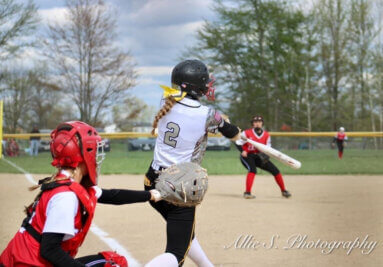 PHOTO by ALLIE S. PHOTOGRAPHY
Kynadee Bode put together yet another brilliant pitching performance and her bat added just as big of a spark as Milan softball defeated Jac-Cen-Del 14-1 in an Ohio River Valley Conference rivalry game on Monday.

Milan's freshman ace allowed just an earned run on a lone hit while striking out nine against one walk in five innings of work. Topping off her day was a 3-for4 performance at the plate which included a home run and double that drove in five runs and she scored three runs. Bode's pitching record now stands at 6-1 with 75 strikeouts and she is batting .531 with three home runs, 28 RBI and 12 hits for extra bases.

As for the game itself, Milan quickly erased a 1-0 deficit with three runs in the bottom of the first inning and then proceeded to add six runs in the bottom of the second and five runs in the bottom of the fourth. Jac-Cen-Del surrendered to the 10-run mercy rule after failing to score in the fifth frame.

Two other Lady Indians put together a trio of hits. Senior Karsyn Bode was 3-for-4 with three runs, two doubles and an RBI and Chloe Hunter went 3-for-3 with a triple, two runs and two RBI. Tryniti Reed hit a pair of singles and scored twice while Abby Moore, Nevaeh Carpenter and Mallory Eaglin each had a hit. Carpenter drove in two runs with Moore and Eaglin each scoring a run.

Statistics for Jac-Cen-Del were not provided by time of print. Milan (9-6, 3-0 ORVC) was home against Southwestern (Hanover) for a conference game on Wednesday and gets a big test tonight at home against Class 3A No. 8 Franklin County.