Bohman RBI lifts Bulldogs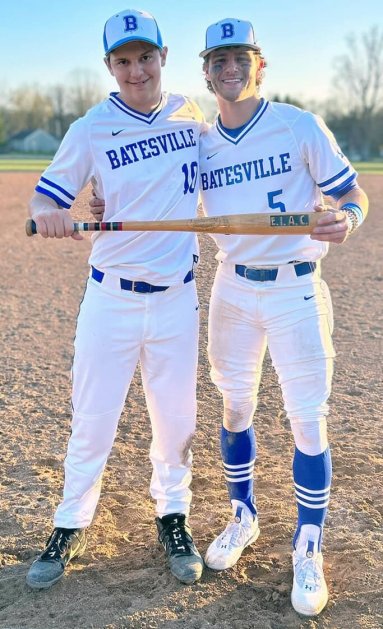 Submitted Photo
Good things can happen when you put the ball into play and that rang true for junior Carter Bohman on Tuesday night in Batesville's 2-1 win over Class 3A No. 10 Connersville at Liberty Park.

The season opener also served as career victory No. 1 for new Batesville varsity baseball head coach Tyler Burcham, a 2013 Greensburg graduate and former Versailles native. Burcham's first two attempts at a debut for the Bulldogs had been washed out by rain showers late last week.

It was quite the season-opening clash given the fact that such a formidable conference foe in Connersville was coming to town to face the Bulldogs who are the defending Eastern Indiana Athletic Conference champions and are preseason ranked No. 7 in Class 3A. There was no question to those in attendance that the two squads will unquestionably be contenders for the 2023 title.

An RBI single by Braxton Myers scored Brady Cloyd and gave Connersville a 1-0 lead in the top of the second inning but the Spartans were shut out the rest of the way and Batesville pieced together its gradual comeback. The Bulldogs tied the game in the bottom of the third when Chris Lewis touched home plate off a Jack Grunkemeyer base hit and three frames later it was Bohman who made some magic happen.

A routine play on a ball hit by Bohman may have resulted in an out, but that did not stop Will Jaisle, who used the contact with less than two outs to head on home, crossing the plate and putting Batesville out in front by the eventual 2-1 final score. Connersville's final chance at tying or regaining a lead went by the wayside in the top of the seventh, allowing the Bulldogs a victory.

Runs were produced but a low-scoring affair meant that pitching on both sides was top-notch early in the year as three pitchers between the two schools allowed just a combined eight hits.

Charlie Schebler earned the win for Batesville in a relief appearance, following up starter Jack Grunkemeyer who pitched four innings and allowed an earned run on four hits with five strikeouts and four walks. Schebler entered in the fifth inning, throwing three frames of no-hit baseball. He struck out and walked a batter apiece.

Brayden Lykins pitched a complete game for Connersville, giving up the four hits and two earned runs with five strikeouts and four walks.

Schebler, Jaisle and Alex Baumer each hit a single to go along with the Grunkemeyer hit. Myers paced Connersville's offense with a 2-for-4 day and the team's lone RBI.
Batesville (1-0) hits the road for a rematch with the Spartans tonight and follows it up with a Saturday non-conference matinee at home against New Palestine. The Bulldogs return to EIAC action on Monday at East Central.