Bond set at $2M cash for Knudson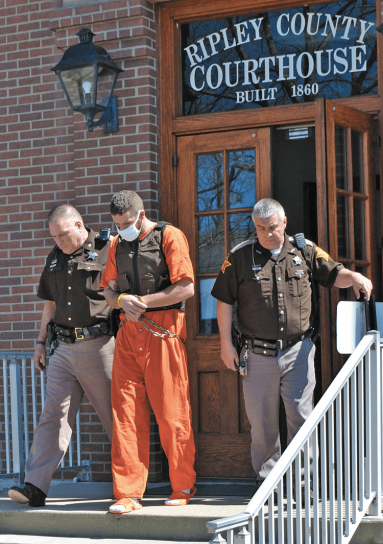 TALI CROWE PHOTO
It will take $2M cash for Jordan Knudson, 36, Holton, to get out of jail following his arrest, after he appeared in Ripley County Circuit Court on Monday, March 29.

Knudson was charged with Murder in the death of Kristina Jones, 36. She was found at a home on 700 W., Holton, on January 10, where she had sustained multiple gunshot wounds to her head, according to court documents.

In a Probable Cause Affidavit filed in Ripley County on March 23, it outlined that Knudson admitted he owned and sold a sawed-off .410 shotgun that had the serial numbers removed. This was a different .410 shotgun than one purchased by his parents, Norman and Pina Knudson. The defendant said he sold the shotgun to Jeff Smith of Westport. However, when detectives interviewed Smith about the gun, Smith denied that this transaction had taken place. Detectives knew that Knudson had gone to the Smith residence on his own at a later date and apologized to Smith for getting him involved. According to Smith, Jordan has asked him to say that he (Smith) bought the gun and threw it in the river. Smith told Knudson to do the right thing and show the police where he (Knudson) threw the gun.

When a search warrant was done at the Knudson farm west of Holton, evidence of .410 shotgun shells was recovered from a burn site. The Indiana State Fire Marshal's Office was involved in the search.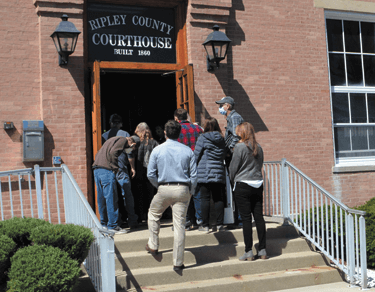 The Probable Cause noted that on January 19, 2021, ISP, Versailles Post, received an anonymous letter suggesting who may have a .410 shotgun. When police examined the letter further, they were able to lift a fingerprint, which according to court records was identified as belonging to Knudson.

It was a packed (as many as COVID-19 rules would allow) courtroom, with many waiting outside on Monday, as family and friends gathered to see if the bond would be set and how high. Both Kristina and Jordan's parents were in attendance.

Ross Thomas, Indianapolis, attorney for Knudson, argued for the bond to be $250,000 with only 10% of that needed to get out of jail. However, Judge Ryan King didn't allow that and instead went with the State's recommendation of $2M cash bond.

Thomas told The Versailles Republican "We're not as worried about the high bond, but, looking forward to getting the evidence out there and my client having his day in court." He also noted that a potential change of venue will be looked at due to the publicity surrounding this case.

"I feel the state outlined valid and statutory reasons for a high bond. I agree that 2 million dollars is significant, but warranted here. That's why I requested it and the Judge agreed with our reasoning," noted Prosecutor Ric Hertel.

According to Prosecutor Hertel if that money is raised, there would be criteria that goes with the release of Knudson. He would have to wear an ankle bracelet and couldn't go out of the State of Indiana.

A jury trial date has been set for September 14.

Editor's Note: It is important to remember that in our justice system, those charged are presumed innocent until proven guilty in a court of law.