Bradford given highest state honor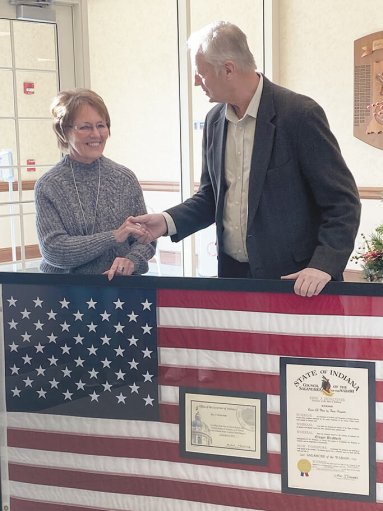 WANDA ENGLISH BURNETT PHOTO
December 21, 2022 was proclaimed as Ginger Bradford Day across the State of Indiana. Randy Frye, State Representative for District 67 came to the Ripley County Courthouse in Versailles to make the proclamation that read, "Ginger Bradford has served the citizens of Ripley County for 32 years. She has served in multiple positions such as, County Assessor, Ripley County Republican Committee Chair, and will retire as County Clerk."

Rep. Frye congratulated Bradford on the exceptional honor and said, "I wish you nothing but the best in your future endeavors." This was before a crowd in the foyer of the Annex building.

Honors were just beginning as Frye then surprised Bradford with the Sagamore of the Wabash, from Governor Eric J. Holcomb, and an American Flag that was flown at
the Indiana Statehouse.

The Sagamore of the Wabash is the highest honor the sitting Governor of Indiana bestows. It is a personal tribute that is usually presented to someone who has rendered a distinguished service to the State. The Sagamore of the Wabash was created during the term of Governor Ralph Gates, who served from 1945-1949. Governor Gates was to attend a tri-state meeting in Louisville, KY, with officials from the states of Ohio and Kentucky. Aides to the governor discovered that the governor of Kentucky was preparing a Kentucky Colonel certificates for Governor Gates and Senator Robert A. Taft, representing the State of Ohio. The Hoosiers decided that Indiana should have an appropriate award to present in turn.

The award states that the honoree is "distinguished by his (her) humanity in living, loyalty in friendship, wisdom in council and inspiration in leadership." Bradford fit all the categories therefore making it easy for the Governor to sign the award.

Lisa Vestal, Ripley County Treasurer, along with Shawna Bushhorn, Ripley County Assessor, presented Bradford with an Appreciation Award for her outstanding service to Ripley County Government for the past 32 years. It simply said, "Thank you for everything!" That statement was echoed around the room as others thanked Bradford for her passionate work in politics over three decades in the county.

Bradford accepted her awards in humble fashion bolstered by her husband, Bill, and all of her siblings and many friends.

The work Bradford started will be carried on by many who will fill that position after her. Liz Baumgartner, who has worked closely with Bradford over the past years, will fill her vacancy until the next election. She has the qualifications to do the job, but said she will sorely miss Ginger. "I know I'm going to cry today," she noted. There were a few tears as Bradford was honored.