Bradley, Bushhorn pull ahead in races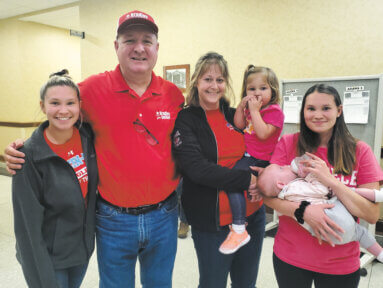 AMY DAVIDSON PHOTO
Election night in Ripley County saw two close races for the Republican nominee for Sheriff and Assessor.

The Sheriff race saw Rob Bradley taking the lead by 36 votes, making it the tightest for the evening. Bradley and Kurt Enneking both campaigned hard and put their best foot forward to let Ripley County residents know they were interested in serving as their Sheriff.

"I would like to thank all the people who assisted and encouraged me in my campaign for Sheriff. I would also like to ask for their continued support and solicit others for the November election," Bradley told The Versailles Republican. He continued, "I'm humbled by the congratulations messages and texts and phone calls. Thank you to the people of Ripley County. I will do my best to be your faithful servant."

When Enneking knew he lost by just a few votes, he too was appreciative of the people of Ripley County, who he now serves by being the Chief Deputy at the Sheriff's Office. He said he ran a positive campaign surrounded by people who are like-minded.

Another race followed closely by many was that of the Assessor. Shawna Bushhorn, who has served in that capacity for several years took the winning votes over challenger Richard Block. She told The Versailles Republican, "I want to thank everyone for their support. I will continue to be honest, fair and to follow state guidelines as I always have."
The seat for County Council District 4 saw incumbent David Tebbing way ahead of challenger Richard L. Stevens to retain the position.

Shelby Township Trustee saw challenger Charles Meisberger pull ahead of incumbent Phillip Morgan on the Democrat ticket.

Although Mike Sodrel was above Erin Houchin in Ripley County, she took the lead in the crowded race for US Representative District 9 in the Republican Primary Tuesday evening. The former State Senator is known for her conservative values. There were nine candidates in that race. She will face Democrat Matthew Fyfe in the fall election.

State Representative Randy Frye had no opposition, along with several other Republican races in the county that included Ric Hertel, Prosecutor, Amy Copeland, Auditor, Jeff French, Surveyor, Mark Horstman, Commissioner, Ronald Decker, County Council District 1, and Stan Wiedeman, County Council District 2.

With the new voting machines and new faces helping with the election, it ran smooth, according to Diane Macek, election clerk. She noted that with 19% voter turnout it was good for a Primary in Ripley County. She thanked all the faithful poll workers – many who have done this for several years. "It takes everyone to bring everything together," she said as the wrap up for the 2022 Primary Election was underway at 8:29 p.m. Tuesday evening.