Bradshaw, Oesterling represent Ripley County at North-South All-Star series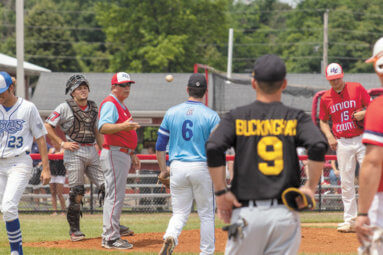 Jared Rogers Photo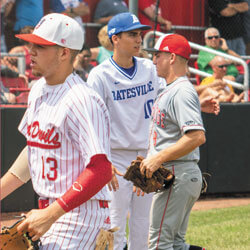 Jac-Cen-Del Eagles baseball coach David Bradshaw led Team South in the 45th annual Indiana High School All-Star series played on Saturday, June 22 and Sunday, June 23 at Gary O'Neal Field at Madison Consolidated High School. The longtime event is organized by the Indiana High School Baseball Coaches Association and features the top senior baseball players in Indiana.
Bradshaw's South All-Stars won the first game of the series 7-3, played after a lengthy rain delay on Saturday afternoon. After trailing 2-0 early, the South added two runs in the third, three in the fourth, and two more in the fifth inning to take a 7-1 lead which held until the eighth inning, when the North added one run. The North mustered one more run in the ninth, but it was not enough to come back. Both teams had seven hits on the game.
Also representing Ripley County, Batesville's Lane Oesterling pitched the final two innings of game one for the South, striking out four batters (out of eight total batters faced) while giving up two hits and two earned runs.
Team South briefly led the second game, also played on Saturday, before the North took off with 12 hits and several high-scoring innings to win 16-3.
Sunday's finale was a nine-inning wood bat game. Each player received a complimentary wood bat from MDS Bats. The north team got off to an early lead and never looked back in the 8-4 win, which sealed their series victory two games to one.
Kyle Schmack of South Central (Union Mills) won the MVP award. Schmack went eight for 10 from the plate over the course of the series, hitting one home run and batting in eight runs. Schmack is only the second player from a Class A school to win the MVP award at the all-star series.