Bridget's Battle: You Can Help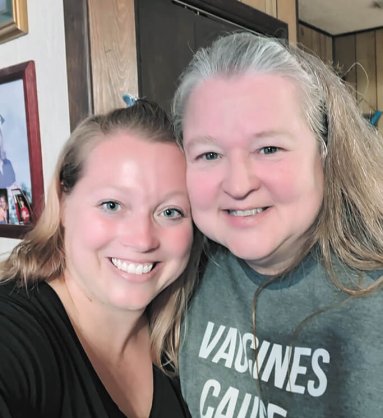 Submitted Photo
Hearing the words "you have cancer" is never easy. Bridget Cornett, 38, formerly of Ripley County, is a young mother with three children, who was diagnosed with triple negative breast cancer that brought their lives to a screeching halt.

Bridget and husband, Donnie, and their children had moved to Florida, where Bridget says she loves the sunshine and warmth. But she spent more years in Ripley County than anywhere and came home to her parents, Lois and (Gary) Franklin of Holton, so she could be near progressive treatment.

Bridget was employed with Ripley Publishing Co. for several years and is well known in the community where she grew up. She posted last week "I've had appointments every day this week. Echocardiogram came back good, PET scan shows no metastasize disease, "which means the cancer hasn't spread. Last Friday she had a port inserted to begin treatment.

"I feel like there is so much information being pumped at me. But with my family and #MyVillage, I know I can get through this. This won't be easy," Bridget noted. She said they hate to ask for help, but at this time her family needs it, emotionally, spiritually, and financially. "We need prayers for strength, courage, healing…" she wrote.

She knows she's looking at six months of chemo treatments before the bilateral mastectomy can be done. There are so many "unknowns" on this journey.

She said her children miss their friends in Florida, her husband is working hard to get them through this, and all their things are "down south." She's had friends and family reach out to them with some warm clothes, food, and more.

Bridget thanked all the family and friends who have reached out to her at this time. Her mother, Lois, said, "We are so touched by all of the gracious gifts of love and kindness my daughter Bridget has received this past week."

Lois is a nurse, and worked many years in public health, employed both with the Dearborn and Ripley County Health departments. She has been a stalwart guide for Bridget on this journey, always at her side.

Pat Thomas, retired Ripley County Health Department Administrator, told the Osgood Journal, "Hopefully the community can rally together and give back to our 'Volunteer Angel', a name she calls Lois for her many acts of kindness while serving the county.

Thomas said it's just like Lois to be taking care of things. She said when she was employed as a nurse with the county, she spent countless hours volunteering through any type of disaster or just everyday as she would even transport people to clinics or go to their homes to make sure they had the vaccines they needed. "Now she needs our help," Thomas said. "She was always going above and beyond," she concluded.

Here's how you can help. Bridget's sister, Josie Goldsberry, has started a GoFundMe account, there's an Amazon Wishlist or you can simply stop by the Civista Bank and tell them you want to make a deposit in the account named Bridget's Battle.

Bridget is in the battle of her life, but with family, friends, and faith, she is determined. "Any donation is greatly appreciated," noted Lois.