Browning's Campground is officially under new ownership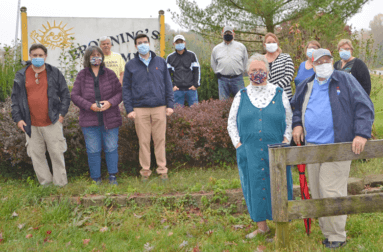 Tali Crowe
Kevin Wang has big plans for the Ripley County site – renovation and renaming
Kevin Wang, of Dearborn County, took ownership of the longtime, family-owned Browning's Campground on Oct. 14. This week he shared the news and some of his big plans for the property. His first step: clean-up.

Wang and his team first want to get the site to a good starting point by picking up the garbage scattered around, removing trailers that belong to the site and tearing down any old, unsafe buildings.

"I'm buying the future," said Wang. "It's what I can do with it, not what it is today."

Wang intends to turn the property into an area that will generate more tourism for the county to market to potential visitors in Indianapolis, Cincinnati and Northern Kentucky, but also make it an area locals will be able to use and enjoy, as well.

The new owner has a background in restaurants, including Wang's Hot Chicken in Aurora, so the campground's restaurant is on the list of places that will be revitalized for the community.

He listed several items he wants to see added to the 93-acre property: a zipline, a sand beach, cabins, lodges for event use, horse trails and camper storage.
Wang plans to change the name of the property to Wheelock Lake Campground for Ripley County's namesake – Eleazer Wheelock Ripley, who was a general in the War of 1812.

"This is a big project, so we are asking for a lot of support from the community," said Wang.

Wheelock Lake Campground has created a Facebook page where the community can leave feedback, ideas and check in on the progress of the site until they create a website.

The Browning's family history will be preserved through pictures that will be on display in one of the buildings on the site, said Wang.

A new site plan will be created before any big projects get underway. Wang said he intends to work with the county to get the proper permitting to allow the people that call Browning's Campground home to be able to continue living there.

"I've never camped in my life," said Wang of staying in a tent. "…I've got a lot to learn about the whole camping world and it's exciting!"

Wang said there wasn't a goal date to be finished with the property – he explained there would always be something going on, referring to his plans to extend existing programming he participates in for veterans, children and groups like Safe Passage in neighboring counties.