Bulldog boys, Lady Indians win at L'burg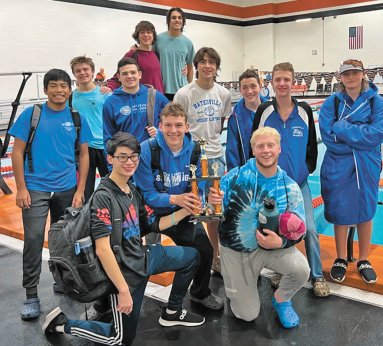 SUBMITTED PHOTO
Batesville's boys swim team and Milan's girls squad picked up impressive wins at the Lawrenceburg Invitational on Saturday.

Saturday's action featured seven boys teams while six teams competed in the girls portion of the day. For the two coverage area schools in the mix, Batesville and Milan finished first and second on both sides of the event.

For the boys, the Bulldogs won with 252 points, fending off Milan and its 229 points. Ross (Ohio) was third with 213 points, Harrison (Ohio) was fourth at 204 points and Lawrenceburg rounded out the top five with 101 points. Southwestern (Hanover) and Shawe Memorial finished with 66 points and 24 points respectively.

Milan won the girls invitational with 248 points and Batesville was second with 218 points. Lawrenceburg at 193 points, Harrison with 169 points and Southwestern at 157 points rounded out the top five. Ross was sixth with 154 points.

Batesville had 20 total swimmers score points in the invitational and 16 swimmers swam personal-bests. For the boys, Will Johnson won the 200 freestyle and Matt Tekulve was a winner in the 50 freestyle. Emi Lopez was runner-up in the 100 freestyle and Johnson took second in the 50 backstroke. The Lady Bulldogs saw Ava Obermeyer lead with a runner-up in the 200 freestyle and three others placed third in individual events.

Sarah Bedel in the 100 breaststroke, Taylor Blanton in the 100 freestyle and Isabel Raab in the 50 freestyle earned those third place finishes.

For Milan's boys, Dylan Thomas was first in the 100 backstroke and the 200 individual medley while Parley Hartwell won the 100 breaststroke and Parker Sutherlin took first in the 500 freestyle. Hartwell was also second in the 200 individual medley while Sutherlin was third in the 200 freestyle. Gabe Rigdon placed second in the 100 fly and third in the 100 breaststroke.

Emilee Knueven swam to two victories in the girls invitational for the Lady Indians. She won the 500 freestyle and 200 freestyle events. Ariel Haessig won the 100 backstroke and finished second in the 200 individual medley while Taylor Williamson was second in the 100 breaststroke and fourth in the 100 fly. Margot Keller placed fourth in the 100 backstroke.

Batesville is back in the pool tonight for a dual match at Centerville.