Bulldog boys outlast Raiders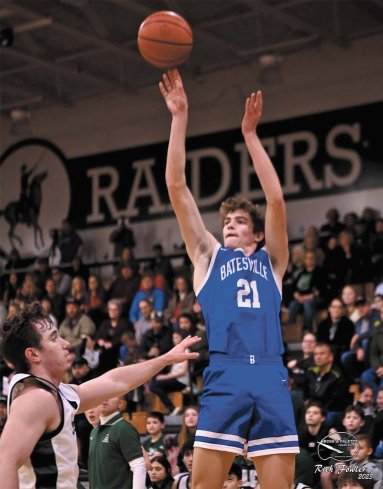 PHOTO by RICH FOWLER
Batesville built up a big lead and then was forced to hold on for dear life as the Bulldogs gutted out a Ripley County Tournament boys basketball championship on Saturday night, defeating host South Ripley 67-64 in the title tilt.

The championship for the Bulldogs was their first since 2019. Batesville had appeared in two title games since -2020 and 2022- but lost in both matchups. South Ripley, who won the country crown in 2021, has lost four of its last five championship games.

Batesville did enough in the middle two quarters to get the job done and was impressive in doing so. After South Ripley led 13-11 at the end of the first quarter, the Bulldogs responded with 24 points in the second quarter and bolted out to a 35-29 halftime advantage. Batesville's lead only grew in the third quarter as part of a 20-11 but even a 15-point deficit could not stop the host Raiders from one major comeback attempt.

The green and white locked down on defense and created possessions in the final eight minutes. In doing so, South Ripley delivered in crunch time with quite the effort, scoring 24 points and eventually getting the game down to a three-point margin with only seconds to go. The Raiders would get the final say but a three-point attempt by sophomore Blaine Ward fell short and clanged off the iron, allowing Batesville to escape with the game and claim the county championship.

Ward scored 12 points in the first half with nine of those points coming fromthe three-point line and the sophomore finished with 15 points on the night, sharing team-high honors with Ethan Johnson who came off the bench to match the total. Johnson scored 12 points combined in the final two quarters.

Sophomore Cole Henry netted 13 points and Gavin Binion scored nine points for the Raiders. Chancie Volz and Logan Bradley each put in six points. Henry, Ward and Johnson were named to the All-County Team at the conclusion of the tournament.

Batesville put four on the All-County Team, led by Most Valuable Player Cole Pride who was fantastic on Saturday night, pouring in 31 points which included five 3-pointers in the game. Pride, who had 19 points in the first half, was joined in double figures by two other players. Gus Prickel and Cade Kaiser each had 10 points.

Sam Johnson and Jack Grunkemeyer scored nine points and seven points respectively. That duo, alongside Kaiser, joined Pride on the All-County Team.

Pride eight rebounds and three blocked shots in the championship while Grunkemeyer had seven rebounds and five assists. Prickel and Kaiser each had five assists.
Batesville (8-3) is at Greensburg on Thursday night for an Eastern Indiana Athletic Conference rivalry showdown while South Ripley (5-7) is home tonight against Oldenburg Academy.