Bulldog boys shutout No. 20 Knights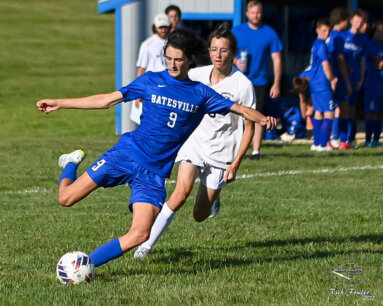 PHOTO BY RICH FOWLER
Batesville boys soccer racked up its second-straight victory out on the pitch after the Bulldogs spent last Tuesday night upsetting Class 2A No. 20 South Dearborn 3-0 at home.

The win came after Batesville beat Knightstown 6-1 on August 27 to break free of a brief two-match skid. Tuesday's victory was the Bulldogs' first this season over a ranked opponent and another notch in the win column in terms of Eastern Indiana Athletic Conference play.

After 20 minutes of scoreless soccer in the first half, Batesville got on the board after Eli Lopez's ball into the South Dearborn box caught the foot of Noah Pierson for a goal. Ian Carpenter joined in on the fun when his free kick sailed into the net with 12:23 remaining in the half and the Bulldogs led 2-0 going into intermission.

The two teams played much of the second half scoreless but Pierson came through late with only 2:38 remaining in the match, scoring his second goal of the night for the eventual 3-0 score. Overall for the contest, Batesville put up 16 shots against South Dearborn's defense, led by Carpenter and Pierson who took six shots and three shots respectively. Grant Peters and Emi Lopez also took three shots apiece.
South Dearborn, who lost just its second match of the season, took 11 shots on goal but all were saved by Batesville goalie Ethan Goodin. It was Goodin's fourth shutout of the season.

Batesville (5-2, 3-1 EIAC) played Jac-Cen-Del last Thursday in Osgood and is on the road today against Shelbyville.