Bulldogs and Indians prepare for postseason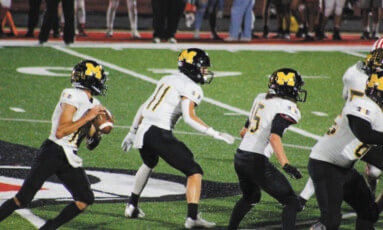 PHOTO COURTESY OF LINDSAY DEBOLT
Nine weeks inside the high school football regular season flew by and now nearing the end of October both Batesville and Milan are finding themselves labeled contenders as sectional play kicks off on the gridiron this Friday night.
The IHSAA Football State Tournament sees its six classes all start up the postseason this weekend with sectionals being played over the next three weeks.
Batesville enters Class 3A Sectional 31 with an overall 8-1 record which includes a 6-0 mark against sectional opponents. The Bulldogs have every reason to believe they are a top contender for their first title since 2015 but several in the field will have some say about such a statement.
That includes defending 3A State Runner-Up Lawrenceburg who is a potential semifinal opponent. The No. 9 Tigers (7-2) fell to Batesville 26-23 back on September 22 but can stake claim as Sectional 31's powerhouse, having won the last four sectional championships and the program has made state finals appearances in 2016 and 2022. Lawrenceburg's offense is scoring 32.7 points per game and defense is allowing 16.1 points per game but both sides of the ball will get a test in the opening round as the orange and black face unbeaten No. 15 Centerville (9-0) on the road.
Both Lawrenceburg and Centerville are considered top-tier teams in Sectional 31 although Centerville's regular season schedule is a bit of a question mark. Indian Creek (6-3) and South Dearborn (5-4) are also potential primetime players in the field.
Batesville is on the road Friday night for an opening round matchup against Rushville (3-6). The blue and white drilled the Lions 56-18 on September 18. Batesville's offense is sizzling right now, averaging 35.3 points per game this season which includes three-straight games of 49-plus points. Defense has allowed only 20 points during that stretch and gives up 16.1 points overall this year. Junior running back Gage Pohlman leads the crew with 1,142 rushing yards and 11 touchdowns on 137 carries.
Will Jaisle has thrown for 1,190 yards on 20 touchdowns against just two interceptions. Cade Kaiser has been his top target at 31 catches, 468 yards and 12 scores. Pohlman has hauled in four touchdowns on 10 catches and 301 yards. An overall effort defensively has been credited to 13 interceptions, six fumble recoveries and eight sacks.
Milan enters sectional play ranked No. 12 in Class A and the Indians have to love their chances in Sectional 46. The black and gold (6-3) are looking for their first championship since 2016.
The Indians are tied with defending sectional champion North Decatur and Tri for the best overall record in the sectional field but Milan has seen just one sectional foe -South Decatur- this year, which saw Ryan Langferman's club put on a 49-7 drubbing of the Cougars. North has won three-straight games after starting the year 3-3 and plenty of talent is still around from last year's Class A Final Four squad to again make a viable case as still being the postseason favorite. The Chargers boast a well-balanced machine that sees an offensive average of 33.6 points per game while defense gives up 14.6 points per game.
Tri is down from where the program was just a couple of years ago but still presents matchup problems, especially on offense where they score 35 points a night. The Titans would serve as a potential semifinal foe for Milan next week.
Milan has won five of its last six games with the only loss being to Class A No. 3 Providence who enters the postseason undefeated. A challenging regular season schedule and the consistent improvement of the tribe certainly has high hopes tagged on this team. The offense has scored 40-plus points in five games and is averaging right around 33 points per game and defense has given up just seven points in the month of October.
Four different ball carriers have rushed for 250 yards or more as part of a loaded offense that boasts a variety of weapons. Austin Green leads with nine touchdown runs and 852 yards on 98 carries. Ethan Pierce has caught 12 passes for 130 yards and three scores as quarterback Wyatt Marsh has improved throughout the season, racking up 632 yards and five touchdowns on 67-of-104 passing. Pierce also has a team-high 61 tackles with three sacks on the defensive side.
Milan's defense has intercepted 11 passes and recovered five fumbles. Dylan Offill has six of those interceptions.
The Indians are on the road for the opening round on Friday night against Cambridge City Lincoln (1-6).