Bulldogs and Raiders win SR Invite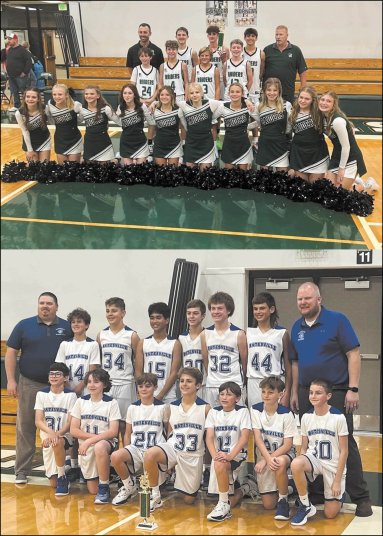 SUBMITTED PHOTOS
Batesville's seventh grade boys and South Ripley's eighth grade team opened up the 2023-2024 winter sports slate with a pair of championships at the South Ripley Invitational last Saturday.
The annual event featured South Ripley, Batesville, Jac-Cen-Del and Waldron with opening round games being played followed by consolation and championship matchups.
Seventh grade action saw Batesville defeat South Ripley 34-28 in the opening round before going on to beat Waldron 54-34 in the championship game. Isaiah Martin led the Bulldogs with 12 points in the title tilt while Evan Ibold and Hank Bohman each scored nine points. Ryder Shields added seven points and the duo of Deacon Fledderman and Lane Higham scored four points apiece. Trenton Taylor, RJ Schuerman, Collin Vogelsang and Beckett Jones all had two points.
Bohman scored nine points and Martin followed with eight points in the opening round matchup. Higham and Schuerman scored seven points and six points respectively while Fledderman and Jax Negovetich each had two points.
Waldron beat Jac-Cen-Del 29-23 in a seventh grade opening round game. Charlie Huff led the Osgood crew with nine points, Kasin Bowling scored six points and Jacob Carroll had four points with a team-high eight rebounds. Mason Ryder and Jack Sloan each had two points. The Eagles fell 43-11 in the consolation game to South Ripley with Carroll leading scoring at seven points to go along with five rebounds. Austin Hardin and Bowling added two points apiece.
South Ripley statistics were not available by time of print.
The Raider eighth grade won both of their games by a combined 43 points, including a 53-30 win over Jac-Cen-Del in the championship game. Will Meyer paced the Eagles with seven points, Conner Yeggy went for six points and the tandem of Aiden Maloney and Parker Pindell each scored five points. Sam Johnson was another five-point scorer with a pair of rebounds. South Ripley statistics from the championship were not available by time of print.
South Ripley beat Batesville 48-28 in the opening round and three players reached double figures as Landon Werner scored 18 points, Eli Gilpin finished with 13 points and Blake Gunter sat at 12 points. Abe Speer chipped in five points. Carson Meyer led Batesville with 14 points and was followed by Jackson Peetz with seven points. Levi Hunt was next in line with five points while Winston Garrett and Eli Denni both connected on a lone free throw.
Batesville came back to win the consolation game, defeating Waldron 45-13. Garrett and Denni both reached double figures with 11 points and 10 points respectively, Hunt had seven points and Meyer, Brody Mauk and Peetz aided with four points apiece. Max Walter hit for three points and Liam Wagner scored two points.
Jac-Cen-Del's eighth grade win came in the opening round, defeating Waldron by a 45-14 final score.
Meyer recorded 13 points and five rebounds and Johnson added nine points. Pindell scored eight points, Yeggy put in seven points, Maloney had six points and eight rebounds and Conner Patrick had two points to go with three steals.