Bulldogs blank Milan in Bell Game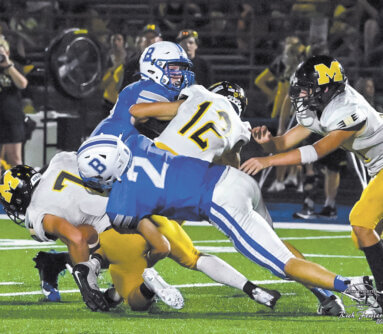 PHOTO COURTESY OF RICH FOWLER
A defensive showdown was had the entire night in the latest chapter of the Ripley County Bell Game but it was Batesville keeping possession of the bell, thwarting Milan's defense in the second half to pull out a 21-0 victory on Friday night.
The host Bulldogs have now won the annual rivalry series four-straight years and are now 2-0 to start the year for the third time in the last six years.
Whether expected or not, it was a first half on Friday that was highlighted by defense as each team stifled the other's offense for 24 minutes, culminating in a 0-0 stalemate going into halftime. By the second half, Milan was still hanging on defensively but Batesville's offense had enough weapons to finally generate some scoring.
The Bulldogs used an interception thrown by Milan's Mason Green to garner momentum and turned right around on offense to deliver the first score of the night in the third quarter. One touchdown led to another and a comfortable 14-0 advantage after the frame shot up to 21-0 in the fourth period as Batesville tacked on some insurance to end the night.
Despite giving up 21 points, Milan's defense did everything it could to try and put a stranglehold on a high-octane Batesville offense. Unfortunately, the Indians saw their young offense struggle not only to score, but also rack up yards.
Batesville's defense allowed just 112 yards of total offense. Austin Green had over half of those yards for the Indians, rushing for 64 yards on 10 carries. Ethan Pierce caught two passes for 23 yards and quarterback Wyatt Marsh was 9-of-15 passing for 34 yards.
Defensively, Pierce came up with a sack and Dylan Offill recorded an interception against Batesville quarterback Will Jaisle.
Jaisle's lone mistake did not deter him from a solid night throwing the football, going 7-of-12 passing for 100 yards. Cade Kaiser was his top target, hauling in three catches for 60 yards and a score. Gage Pohlman was responsible for 227 rushing yards on 20 carries with two touchdowns, well over half of Batesville's 347 yards of total offense. Brady Wonnell was a perfect 3-of-3 on extra points.
Pohlman and Bobby Weiler each had a sack against the Indians.
Batesville (2-0) opens Eastern Indiana Athletic Conference play on Friday night when they hit the road for the first time this year to face South Dearborn. Milan (1-1) is home on Friday night against Class 3A No. 3 Lawrenceburg