Bulldogs claim Ripley Co, Harris wins solo title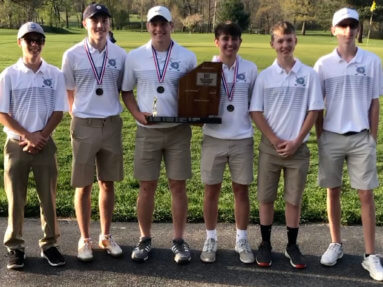 Submitted Photo
Milan's Bryson Harris put himself at the top of the leaderboard and Batesville came away as the top team inside the Ripley County Championship meet on Tuesday afternoon played at the North Branch Golf Course.
Batesville earned the county title with a team score of 180 in a nine-hole meet. Milan fell seven strokes behind at 187 for a runner-up finish and Jac-Cen-Del shot a 229 to finish third. South Ripley does not have a boys golf team this season. 
Milan fielded the two best individual performances of the afternoon as Harris won the individual county championship with a seven-over par 42 and teammate Josh Clark was runner-up with a 43. Batesville's Jack Abplanalp, Jackson Wanstrath and Austin Pohlman rounded out the top five and the all-county team. Abplanalp shot a 44 while Wanstrath and Pohlman each shot a 45. 
Batesville's scoring round was finished out by Dean Campbell's 46. Kyle Williamson shot a 55 in a non-scoring round. 
Milan's Peyton Wert shot a 50 and Cole Knecht shot a 52 in the Indian scoring round. Tyler Walke shot a 56 in a non-scoring round. 
Jac-Cen-Del's top score was Sam Schwering with a 55 with Ander Reifs and Drew Caccamo each shooting a 57. Derek Borgman shot a 60 in the scoring round and Luke Meyer shot a 61 in a non-scoring round. 
Batesville hosts Shelbyville tonight while Milan competes on May 4 against East Central. Jac-Cen-Del plays in the Cougar Invitational at Seymour on Saturday.