Bulldogs continue to shine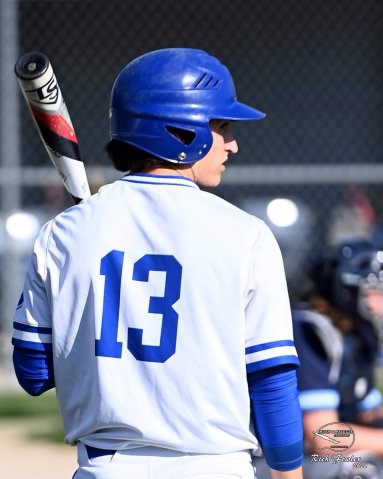 Photo by Rich Fowler
Batesville baseball has yet to find itself in the state rankings this year but that perhaps changes this week after two more big wins this past Thursday and Friday.

The Bulldogs started with an 8-1 blowout of Class 3A No. 7 Franklin County on Thursday night in an Eastern Indiana Athletic Conference game played in Brookville to complete a regular season sweep of the Wildcats. Batesville did most of its damage in the first three innings of the game, leading 2-1 after the first inning and then scoring three runs in the top of the second and one run in the top of the third.

Batesville added two insurance runs in the top of the seventh and sealed the win in the bottom half of the frame.

Five of 11 hits for Batesville went for extra bases as Riley Zink hit a home run, Calvin Sherwood hit a triple and Sam Voegele, Cole Werner and Jack Grunkmeyer each went for a double. Werner went 2-for-3 with two RBIs and a run scored while Voegele, Grunkmeyer and Max Baumer each went 2-for-4. Voegele had two RBIs and a run scored.

Brandt Ertel was 2-for-3 with a double and a run for Franklin County.

The pitching win went to Zink after five innings of work. He allowed an earned run on four hits with seven strikeouts and two walks. Brandt Ertel was hit with the loss for the Wildcats after lasting just three innings. He allowed six runs -four earned- on seven hits with four strikeouts and three walks.

Batesville followed on Friday night with an impressive 7-3 win at home against Lawrence North. The Wildcats led 2-1 after a run in the top of the fourth but the Bulldogs responded with two runs in the bottom of the fourth and three more runs in the bottom of the fifth to increase the advantage.

The two teams each scored a run in the sixth inning before Lawrence North bowed out in the top of the seventh.

Sherwood went 2-for-3 with two runs for Batesville while Voegele and Zach Wade each hit a double with two RBIs. Lawrence North's Coby Stephens went 2-for-3 with a double, home run, two RBIs and a run.

Will Habig pitched four innings for Batesville and earned the win. Habig allowed two runs -one earned- on two hits with four strikeouts. Owen Quinn started for the Wildcats and was pinned with a loss. Quinn allowed three runs -two earned- on two hits with three strikeouts and two walks through three and one-thirds innings.

Batesville (9-4, 4-2 EIAC) entered this week on a three-game win streak and visited rival Greensburg in an EIAC game on Monday night. The Bulldogs are at Milan tonight in a Ripley County battle.