Bulldogs earn first win of the season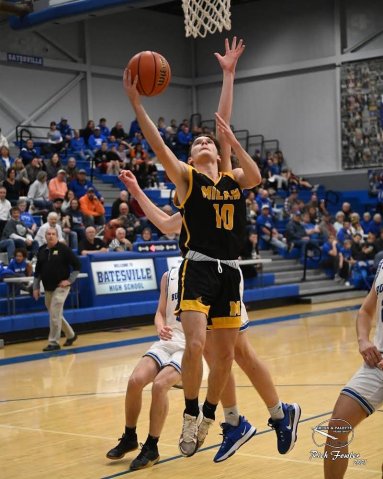 PHOTO BY RICH FOWLER
Batesville boys basketball played two late week contests but the first of the two certainly marked a big stepping stone as the Bulldogs defeated Milan 50-37 to earn their first win of the year.

The two Ripley County rivals entered Thursday night both looking to remove a goose egg from the win column and ultimately it would be Batesville who got the job done. A visiting Indian ball club played well early only to see scoring become a problem as the night progressed. The Bulldogs pulled away for a 27-19 halftime lead and outscored Milan 23-18 in the second half.

Milan (0-5) saw 16 of its 37 points scored by Kohen Rinear while Caiden Yorn added eight points in the loss. Batesville put four players in double figures with Thomas Raver leading the team with 12 points. Eli Pierson, Cody Mohr and Sam Johnson all provided a much-needed boost on offense with Pierson scoring 11 points and the duo of Mohr and Johnson providing 10 points apiece.

Full statistics for the game were not provided by time of print. Milan now looks towards the Bulldog Holiday Classic at Monrovia on December 28. The two-day tournament sees the Indians open up against Tipton at 1:30 p.m.

Batesville looked to make it two wins in a row on Saturday but Eastern Indiana Conference play proved to be unfriendly as rival East Central clamped down on the visiting Bulldogs by a 44-25 score.

The game marked the second time this season that Batesville has been held to under 30 points but the second time the Bulldog defense has limited an opponent to under 45 points. East Central (4-2) has now won back-to-back games after dropping two-straight contests.

Batesville (1-5, 0-1 EIAC) visits Union County tonight.