Bulldogs grapple at Rushville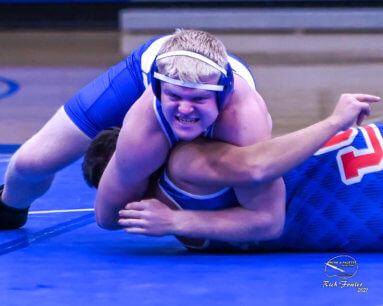 PHOTO BY RICH FOWLER
Batesville wrestling competed this past Saturday in a five-way meet at Rushville and finished 3-1 on the day.

The Bulldogs suffered their lone loss of the day in their opener, falling 55-17 to Centerville. Max Amberger was a forefit winner in the 285 pound class while other Batesville wins came from Chase Hamilton via pinfall in the 195 pound class and Alex Murphy who scored a 22-6 technical win in the 120 class.

Batesville bounced back quickly, defeating Greensburg 42-19 before a narrow 42-35 victory over Connersville. The Bulldogs were then a decisive 51-24 winner over Rushville to wrap up the day.

Individual results inside the final three matches included Mason Neeley, Josh Mobley and Christian Garcia by pinfall against Greensburg while Muprhy and Amberger won by decision in the same match. Forefit winners were Conner Campbell and Damien Dance.

David Maher got his first win in the 138 pound class against Centerville with Neeley, Dance, Mobley and Hamilton winning by pinfall and Murphy and Amberger winning by forefit. Against Rushville, Murphy and Amberger wrapped up undefeated days respectively and Hamilton, Neeley, Dance and Mobley were victorious and ended the day with a 3-1 record.

Batesville wrestled on Tuesday night against Franklin County and is at East Central for an eight-way meet on Sat.